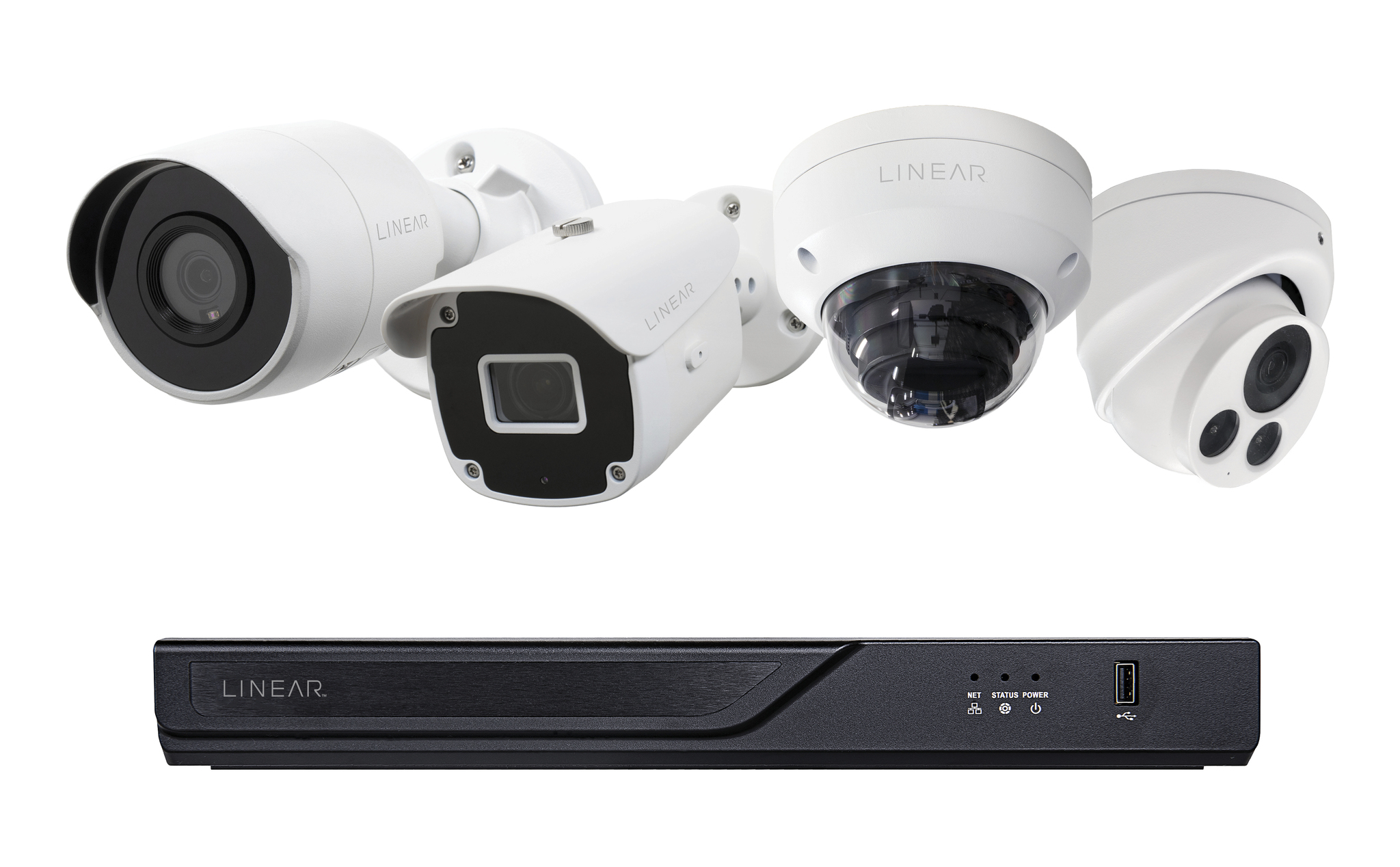 Product Announcements
March 22, 2022
Nice/Nortek Control Launch Line of Linear® Surveillance Cameras at ISC West 2022
The multi-family line of intelligent AI-powered cameras seamlessly integrates with Linear Access Control and Telephone Entry systems for a unified access control and surveillance solution
CARLSBAD, Calif., March 22, 2022 – Nice/Nortek Control is set to showcase their brand-new smart and AI powered intelligent Linear® Surveillance Cameras and Network Video Recorders (NVR) at ISC West 2022. This multi-family cameras and NVRs are designed to seamlessly integrate with Linear Access Control and Telephone Entry systems. Surveillance camera lines are powered by IntelliVision® Video Analytics to provide actionable insights using AI and deep learning-based video analytics on the edge. The NVRs communicate with Linear Access Control and Telephone Entry systems to automatically see video events tied to the corresponding access events helping property or facility managers with proactive notifications. Together, the whole Surveillance system integrates with Linear Access Control and Telephone Entry systems for ease of install and all-in-one support.
"The Linear Surveillance line is the first step in our vision to enhance our access control ecosystem with smart automation capabilities," said Santhosh Thammi, Vice President of Linear Product Management for Nice/Nortek Control. "Dealers and property/facility managers now have an integrated solution right out of box." The Linear Surveillance line is ideal for commercial buildings, multi-dwelling units (MDU), gated communities, city municipalities and K-12 and higher education campuses.
The multi-family camera line includes the IV400 Intelligent AI camera family and the IV200 camera family. The IV400 is a quad core 5MP camera family and utilizes the full suite of IntelliVision analytics including intelligent motion detection, object detection and classification (humans, vehicles, animals), object left/removed, directional line crossing, and intrusion/perimeter watch. The IV200 family is a cost-effective 2MP camera with fixed and varifocal lens options. The IV200 also provides core IntelliVision features such as motion detection, object detection, and object left/removed.
The Linear Surveillance line is part of Nice/Nortek Control's expanded, 'Stronger Together', portfolio of Access, Security, Control, and Entertainment solutions. Integrators, dealers, and distribution partners benefit from access to greater opportunities with a broader solutions portfolio of integrated smart and connected products.
To learn more about the new Linear Surveillance Products, visit Nice/Nortek Control at ISC West in Las Vegas from March 22-25, 2022, at Booth 20007. If you'd like to schedule a press meeting with Nice/Nortek Control, please email Heather Janssen.
About Nice North America
Nice North America designs and manufactures smart home and building automation solutions. Innovating since 1962, the company offers pro-install and DIY smart solutions in perimeter access, gates, barriers, access control, home security and automation, single-app intelligent control, sunshade solutions, whole home entertainment and video distribution for residential, commercial and industrial environments. Complementing its Nice branded solutions, its family of brands includes 2GIG, Abode, ELAN Control Systems, FIBARO, Furman, Gefen, HySecurity, IntelliVision, Linear, Mighty Mule, Numera, Panamax, Proficient Audio and SpeakerCraft. The regional division of Nice is headquartered in Carlsbad, CA with regional R&D, manufacturing centers in Kent, WA and Quebec, Canada; and distribution centers in Phoenix, AZ; Olive Branch, MI; Chicago, IL; and Atlanta, GA. Professional integrators, dealers and distribution partners grow their business with award-winning CEU training and education, technical and field support, and sales and marketing programs with customized brand assets. The company is a proud national sponsor of the Gary Sinise Foundation R.I.S.E. Program, supporting wounded veterans and their loved ones. For further information, visit www.niceforyou.com/na
©2022, Nortek Security & Control LLC. Linear and IntelliVision are registered trademarks of Nortek Security & Control LLC. Other brand names and product names mentioned herein may be the trademarks, tradenames, service marks or registered trademarks of their respective owners. All rights reserved.
Press Contact
Heather Janssen
Communications Specialist, Nice/Nortek Control
Heather.Janssen@nortekcontrol.com
Corporate Contact
Richard Pugnier
Vice President of Marketing, Nice/Nortek Control
760.517.1688
Richard.Pugnier@nortekcontrol.com
Stay in the know!
Get the latest from Nice, including tips, new product information, and more.