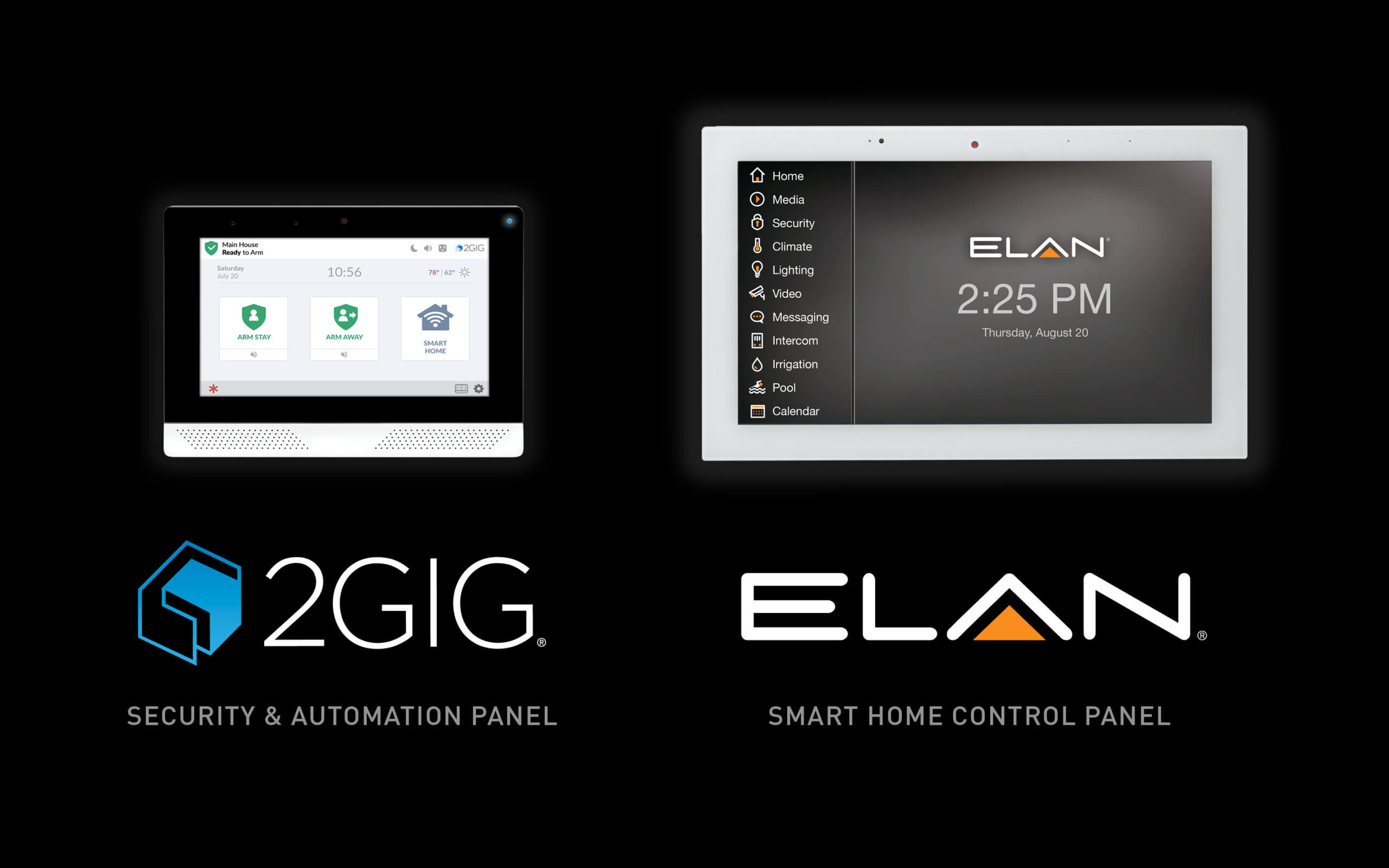 Product Announcements
March 21, 2022
Nice/Nortek Control Announces Integration of 2GIG EDGE™ Panel with ELAN® Control Systems at ISC West 2022
Best-in-class security meets best-in-class control in an exclusive integration to create an exceptionally powerful and secure platform
CARLSBAD, Calif., March 21, 2022 – Furthering its commitment to provide smart home and security integrators with the most complete platform for home control, Nice/Nortek Control today announced exclusive integration of their award-winning 2GIG EDGE™ security panel with its ELAN® Control Platform. The ELAN Control Systems and 2GIG EDGE integration offer tactical and seamless interoperability between security and control.
"We're setting the standard for security and control all from a single platform," said Quinto Petrucci, Vice President of 2GIG Product Management for Nice/Nortek Control. "The innovative and award-winning 2GIG EDGE panel works together with unparalleled control from ELAN systems to seamlessly integrate and offer the highest levels of convenience, familiarity, comfort, security, and personalization. Integrating under one roof, backed by leading support, removes all the guesswork for our dealer partners."
The integration brings native control of the 2GIG EDGE security panel, the only security panel on the market with facial recognition, to the ELAN intelligent touch panel and mobile app allowing users to easily arm and disarm their home security, connect to ONVIF-compatible security cameras, doorbell cameras and directly view video and security events in real time.
The stunningly modern and sleek design of the 2GIG EDGE security panel includes a large, high-resolution edge-to-edge glass screen that eliminates plastic bezels. Powered by IntelliVision® Video Analytics and engineered using edge analytics, secure face recognition touchless disarm uniquely identifies the homeowner to grant access. The homeowner's biometric data stays secure by saving it only on the EDGE panel and never to the cloud.
"Developed closely by our two R&D teams for a truly seamless experience, 2GIG EDGE and ELAN are Stronger Together," said Richard Pugnier, Vice President of Marketing and Education at Nice/Nortek Control. "The integration between the 2GIG EDGE security panel and ELAN Control Systems are a key part of our overall vision to deliver integrated experiences from our growing portfolio of solutions. Together, the 2GIG EDGE panel and ELAN levels up the experience for homeowners with an intuitive and elegant way to access and control their security."
The ELAN Control Auto Zone Detection simplifies installation of the 2GIG EDGE panel; once the panel has been configured, all zones and zone names will be automatically added to the system. Features include: Arm-Disarm, Zone Status, Event Based Arming, Auto Arm, History View and Zone Bypass.
Integration is supported by the ELAN SC-100 and ELAN SC-300 system controllers with ELAN 8.7 OS, which will be released next month. 2GIG EDGE firmware for ELAN integration (v3.1.1.0 or later) can be found on the dealer portal for 2GIG® products.  For more details on upgrading, contact your Regional Sales Manager.
For demonstrations of 2GIG EDGE and ELAN Control Systems working together, visit Nice/Nortek Control at ISC West in Las Vegas from March 22-25, 2022, at Booth 20007. To schedule a press meeting with Nice/Nortek Control, please email Heather Janssen.
About Nice North America
Nice North America designs and manufactures smart home and building automation solutions. Innovating since 1962, the company offers pro-install and DIY smart solutions in perimeter access, gates, barriers, access control, home security and automation, single-app intelligent control, sunshade solutions, whole home entertainment and video distribution for residential, commercial and industrial environments. Complementing its Nice branded solutions, its family of brands includes 2GIG®, Abode®, ELAN Control Systems®, FIBARO®, Furman®, Gefen®, HySecurity®, IntelliVision®, Linear®, Mighty Mule®, Numera®, Panamax®, Proficient Audio® and SpeakerCraft®. The regional division of Nice is headquartered in Carlsbad, CA with regional R&D, manufacturing centers in Kent, WA and Quebec, Canada; and distribution centers in Phoenix, AZ; Olive Branch, MI; Chicago, IL; and Atlanta, GA. Professional integrators, dealers and distribution partners grow their business with award-winning CEU training and education, technical and field support, and sales and marketing programs with customized brand assets. The company is a proud national sponsor of the Gary Sinise Foundation R.I.S.E. Program, supporting wounded veterans and their loved ones. For further information, visit www.niceforyou.com/na
©2022, Nortek Security & Control LLC. 2GIG, ELAN and 2GIG EDGE are trademarks of Nortek Security & Control LLC. Other brand names and product names mentioned herein may be the trademarks, tradenames, service marks or registered trademarks of their respective owners. All rights reserved.
Press Contact
Heather Janssen
Communications Specialist, Nice/Nortek Control
Heather.Janssen@nortekcontrol.com
Corporate Contact
Richard Pugnier
Vice President of Marketing, Nice/Nortek Control
760.517.1688
Richard.Pugnier@nortekcontrol.com
This story first appeared on the ELAN Control Systems website.
Stay in the know!
Get the latest from Nice, including tips, new product information, and more.