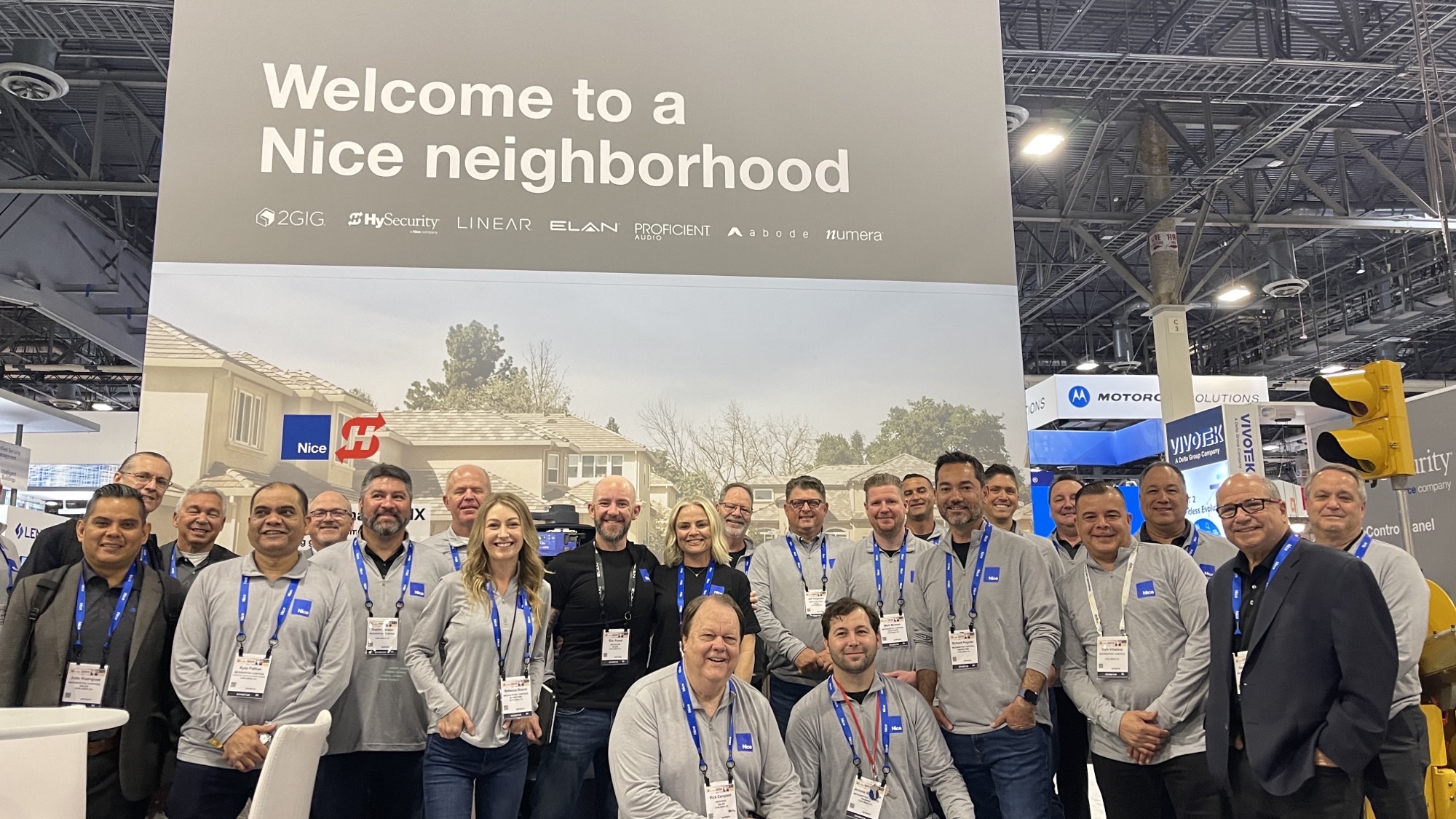 Press Releases
March 15, 2022
ISC West 2022: Nice/Nortek Control to Demo New Product, Integrations and Display Most Comprehensive List of Brands Together Since Nice Acquisition
Showing how they're 'Stronger Together', Nice/Nortek Control finds new ways to integrate and plan to demo new products while also presenting an extensive list of brands and products at ISC West
CARLSBAD, Calif., March 15, 2022 – Nice/Nortek Control is set to demonstrate new products and reveal new ways to integrate their brands and solutions together and demonstrate new products at ISC West 2022, March 22-25, in Las Vegas, Nevada. This event will be the first where dealer and distributor partners will be able to see a majority of the Nice/Nortek Control brands like 2GIG® security systems, Linear® access control, HySecurity® gate products, Proficient® audio, ELAN® control systems and Numera® health + wellness all under one roof.
The "Nice Neighborhood", consisting of solutions for residential, commercial, multifamily and industrial projects, will be located at Booth 20007. Since the acquisition announcement in October 2021, Nice/Nortek Control has continuously made progress on their integration journey by working to find innovative ways to bolster the ways the brands can offer a stronger family of solutions. At the show, the company will demonstrate how ELAN control products and the award-winning 2GIG EDGE™ panel are now compatible with each other. ISC West attendees will also witness Linear Surveillance products in action for the very first time and see initial working compatibility between Linear Surveillance and HySecurity gate products.
"With each advancement, Nice/Nortek Control proves our solutions for security, access, control and entertainment are unmatched and truly, 'Stronger Together'," said Richard Pugnier, Vice President of Marketing and Education at Nice/Nortek Control. "With our robust, single portfolio, our entire family of brands and products – from 2GIG and Linear to HySecurity – all form the ultimate alliance with endless, innovative opportunities for an enhanced safe, smart home experience."
"Innovation at Nice/Nortek Control never stops. We're always looking for new ways to have all our technologies talk to each other. We're excited to debut how our award-winning 2GIG EDGE security panel, the only panel currently in the market with facial recognition technology, and our award-winning ELAN control panel can seamlessly work together to arm and disarm homes – taking security and safety to new levels of success," said Quinto Petrucci, the Vice President of 2GIG Product Management for 2GIG security systems.
Visit Booth 20007 at ISC West for a preview and see the exciting next steps on our Nice/Nortek Control integration journey! If you'd like to schedule a press meeting with Nice/Nortek Control, please email Heather Janssen.
About Nice North America
Nice North America designs and manufactures smart home and building automation solutions. Innovating since 1962, the company offers pro-install and DIY smart solutions in perimeter access, gates, barriers, access control, home security and automation, single-app intelligent control, sunshade solutions, whole home entertainment and video distribution for residential, commercial and industrial environments. Complementing its Nice branded solutions, its family of brands includes 2GIG, Abode, ELAN Control Systems, FIBARO, Furman, Gefen, HySecurity, IntelliVision, Linear, Mighty Mule, Numera, Panamax, Proficient Audio and SpeakerCraft. The regional division of Nice is headquartered in Carlsbad, CA with regional R&D, manufacturing centers in Kent, WA and Quebec, Canada; and distribution centers in Phoenix, AZ; Olive Branch, MI; Chicago, IL; and Atlanta, GA. Professional integrators, dealers and distribution partners grow their business with award-winning CEU training and education, technical and field support, and sales and marketing programs with customized brand assets. The company is a proud national sponsor of the Gary Sinise Foundation R.I.S.E. Program, supporting wounded veterans and their loved ones. For further information, visit www.niceforyou.com/na
©2022, Nortek Security & Control LLC. All rights reserved. 2GIG, Linear, ELAN, Proficient and Numera are registered trademarks of Nortek Security & Control LLC. Other brand names and product names mentioned herein may be the trademarks, tradenames, service marks or registered trademarks of their respective owners.
Press Contact
Heather Janssen
Communications Specialist, Nice/Nortek Control
Heather.Janssen@nortekcontrol.com
Corporate Contact
Richard Pugnier
Vice President of Marketing, Nice/Nortek Control
760.517.1688
Richard.Pugnier@nortekcontrol.com
Stay in the know!
Get the latest from Nice, including tips, new product information, and more.