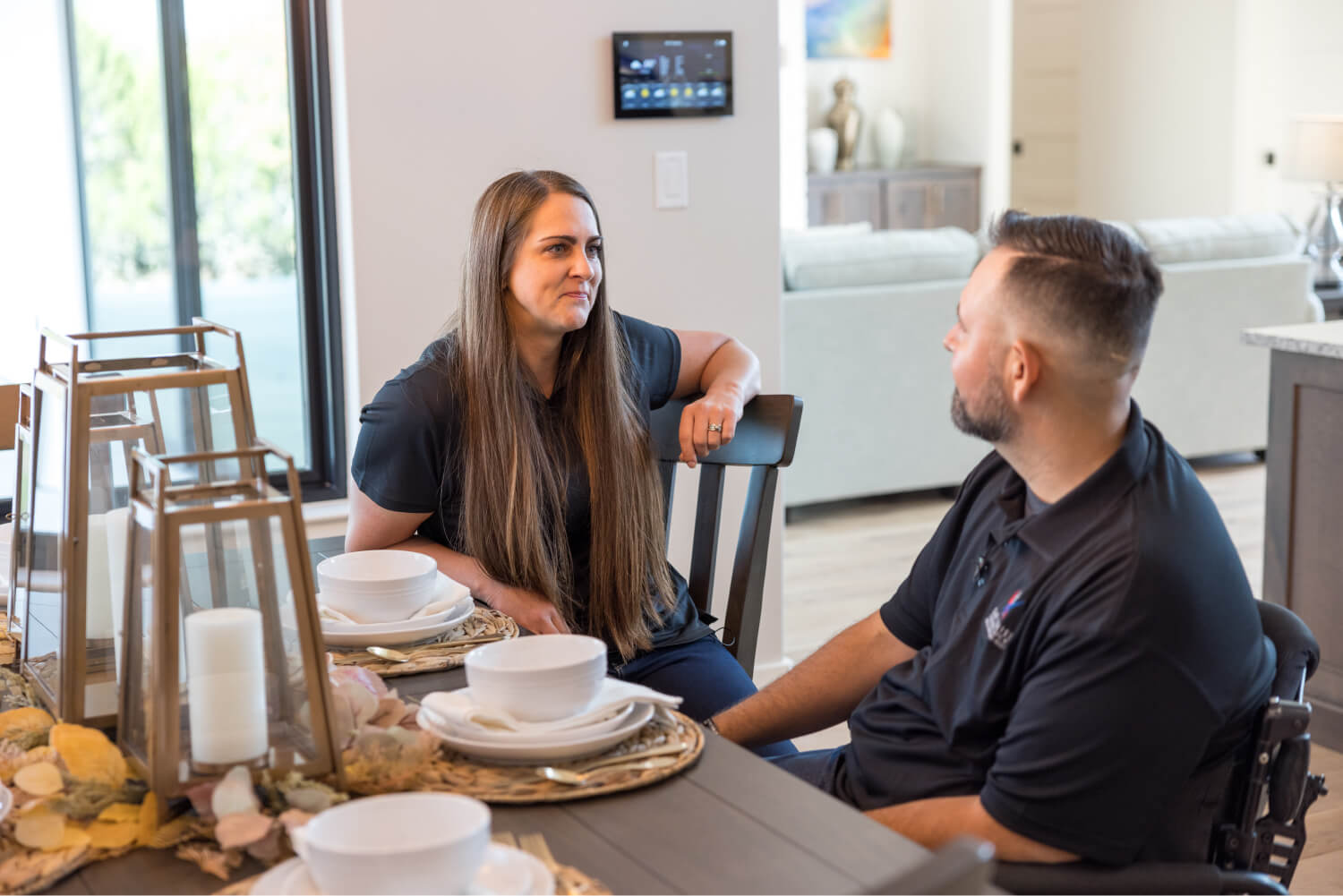 Nice/Nortek Control Joins with BRAVAS Austin and the Gary Sinise Foundation to Create Custom Smart Home for San Antonio Wounded Veteran
Retired U.S. Army Staff Sergeant (SSG) Jason Tabansky receives new smart-home fully equipped with ELAN® control systems
Carlsbad, Calif., May 17, 2022 — Nice/Nortek Control announced today the completion of a project crafted to simplify life's daily tasks and create a specially adapted smart-home for one of America's wounded heroes through the Gary Sinise Foundation's R.I.S.E. (Restoring Independence Supporting Empowerment) Program. With the help of ELAN® control systems and dealer BRAVAS Austin, retired U.S. Army Staff Sergeant (SSG) Jason Tabansky can now focus on what matters most in his life – spending more time with his wife with hopes of starting a family.
SSG. Tabansky was drawn to the military after reading "Chicken Hawks," a book centered on helicopter crews during Vietnam. It's this book that inspired him to embark on a major commitment to the country by enlisting in the U.S. Army as a 67U, CH-47 Chinook helicopter repairer back in 2000. After September 11, 2001, he deployed as part of Operation Enduring Freedom and later, deployed a second time to Iraq in support of Operation Iraqi Freedom. He helped monitor the quality and assisted in maintaining the helicopters. However, back in 2015, SSG. Tabansky was performing a routine Chinook helicopter demonstration in London, England when he slipped and fell while climbing down the aircraft, injuring his right shoulder. After several visits to the ER, SSG. Tabansky was sent away with medication to dull the pain. Days later, he found his body was going numb and became paralyzed from the chest down, including both of his hands.
SSG. Tabansky and his wife can now rely on their new ELAN control system to make mobility around the house easier, and to ease any daily struggles SSG. Tabansky may encounter. Simple tasks like turning on the lights, adjusting the shades, controlling the home climate, or accessing entertainment-like audio and video are now easier with full automation providing one-touch access to each of these functions. An ELAN video doorbell and cameras help boost security around the house. Inside, lighting is provided by Lutron and products are powered by Panamax® power conditioners. The Tabanskys can utilize the ELAN control systems mobile app for all interfaces. All products were selected and installed by BRAVAS Austin – which is recognized nationwide for completing thousands of resident and commercial projects, including in Texas, Colorado, and California.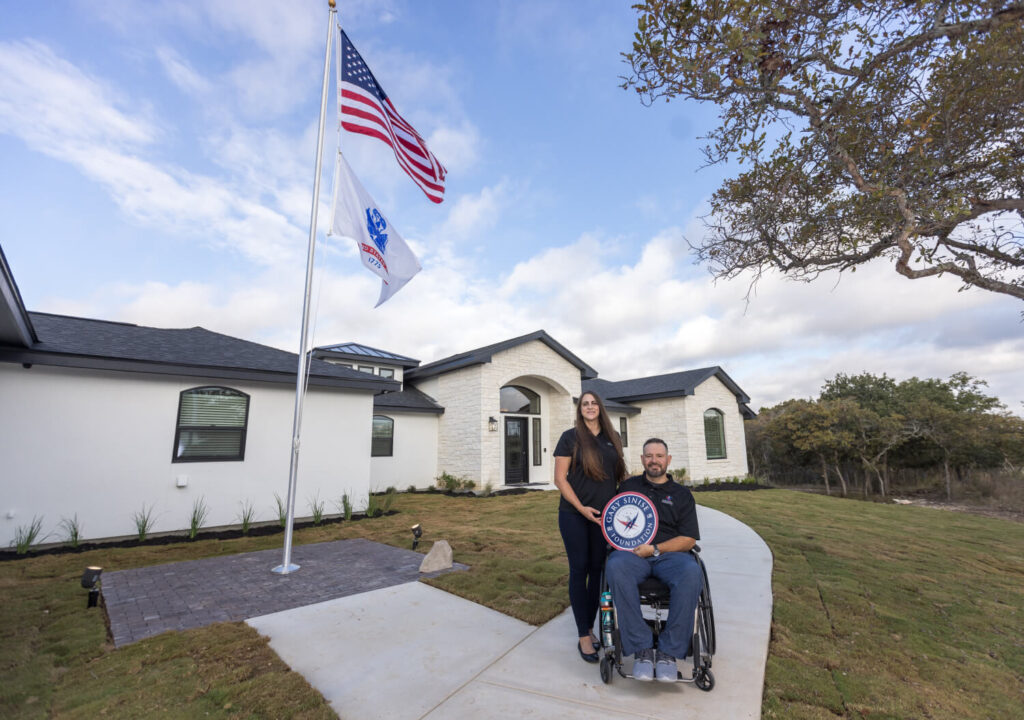 "Courageous and inspiring veterans like SSG. Tabansky deserve every effort possible to improve their quality of life as they heal and move forward," said Richard Pugnier, Vice President of Marketing & Education at Nice/Nortek Control. "One of the most fulfilling things we do is give back to our nation's wounded heroes by working with the Gary Sinise Foundation. We're also incredibly fortunate to work with such remarkable dealers like BRAVAS Austin, who double down and deliver on their commitment through their time and expertise on these incredibly important projects."
"With Nice/Nortek Control, the Gary Sinise Foundation and countless others, we're honored we were able to come together to participate in the building of this smart home as our way of saying thank you to a hero like SSG Tabansky for his sacrifice," said Joel Marinaccio, the Operations Manager at BRAVAS Austin. "After Nice/Nortek Control asked us to provide our services and expertise, we found the project was incredibly rewarding and we're eager to continue servicing the Tabansky family's smart home for years to come."
About The Gary Sinise Foundation
The Gary Sinise Foundation was established under the philanthropic direction of award-winning actor and humanitarian Gary Sinise, who has been an advocate of our nation's defenders for nearly 40 years. The Gary Sinise Foundation's mission is to serve our country by honoring our military service men and women, veterans, first responders, their families, and those in need. The Foundation's four programmatic pillars provide for those who sacrifice so much for our country – R.I.S.E. (Restoring Independence Supporting Empowerment) Program, Relief and Resiliency Program,  Community and Education Program, and the First Responders Outreach Program. As the Founder, Gary Sinise always says, "While we can never do enough for our nation's defenders and their loved ones who sacrifice alongside them, we can always do a little more." That spirit of service is the bedrock of all the Foundation's programs. For more information, please visit GarySiniseFoundation.org.
About ELAN
The award-winning ELAN whole-house entertainment and control solutions, by Nice/Nortek Control, are distributed through a comprehensive channel of select dealers throughout the United States, Canada, and countries worldwide. The ELAN software was honored with a "Human Interface Product of the Year" award and continues to expand its intuitive functionality and customization to deliver the most personalized, feature-rich control experience available. ELAN control systems set the benchmark for today's smart homes with a single app interface to security, climate, entertainment, surveillance and video distribution products and integrations. To learn more, visit www.elanhomesystems.com.
About Nice North America
Nice North America designs and manufactures smart home and building automation solutions. Innovating since 1962, the company offers pro-install and DIY smart solutions in perimeter access, gates, barriers, access control, home security and automation, single-app intelligent control, sunshade solutions, whole home entertainment and video distribution for residential, commercial and industrial environments. Complementing its Nice branded solutions, its family of brands includes 2GIG, Abode, ELAN Control Systems, FIBARO, Furman, Gefen, HySecurity, IntelliVision, Linear, Mighty Mule, Numera, Panamax, Proficient Audio, and SpeakerCraft. The regional division of Nice is headquartered in Carlsbad, CA with regional R&D, manufacturing centers in Kent, WA and Quebec, Canada; and distribution centers in Phoenix, AZ; Olive Branch, MI; Chicago, IL; and Atlanta, GA. Professional integrators, dealers and distribution partners grow their business with award-winning CEU training and education, technical and field support, and sales and marketing programs with customized brand assets. The company is a proud national sponsor of the Gary Sinise Foundation R.I.S.E. Program, supporting wounded veterans and their loved ones. For further information, visit www.niceforyou.com/na
Press Contact
Heather Janssen
Communications Specialist, Nice/Nortek Control
Heather.Janssen@nortekcontrol.com
Corporate Contact
Richard Pugnier
Vice President of Marketing & Education, Nice/Nortek Control
Richard.Pugnier@nortekcontrol.com
###
This story was originally published on the ELAN Control Systems website.
Stay in the know!
Get the latest from Nice, including tips, new product information, and more.