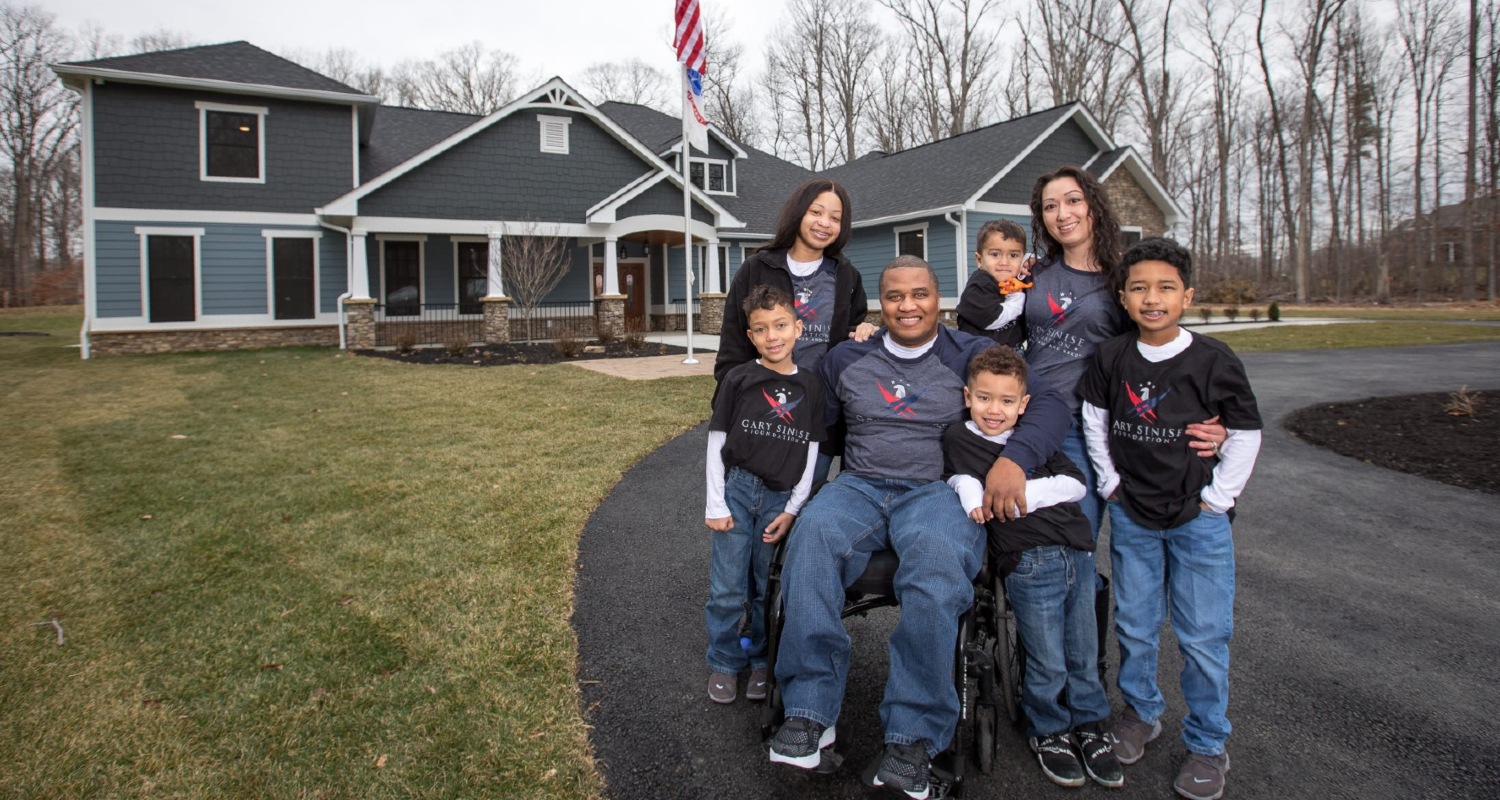 Nortek Security & Control and the Gary Sinise Foundation Honor Wounded Hero with Smart Home Automation
US Army Maj. Jeremy Haynes' new adaptive home features distributed audio and video connected to an ELAN® control system, with SpeakerCraft® audio, 2GIG® security and more.
CARLSBAD, Calif., June 30, 2020 — When U.S. Army Maj. (Ret.) Jeremy Haynes left his home in Albany, GA, to fulfill his deployment in Afghanistan, he left behind two children and his wife Chelsea who was pregnant at the time. He had no idea that the next time he saw his wife she would be by his side at Walter Reed National Military Medical Center where he was being treated for severely debilitating wounds he received in combat.
On a mission in Kabul on August 5, 2014, an Afghan military soldier shot Jeremy four times, including once in the back. The shot to his spine severed Jeremy's vena cava and 80% of the nerves to his lower extremities, paralyzing both his legs. While Jeremy faced a long and painful recovery, he was determined to overcome his injuries.
Through Chelsea's inspiration to heal and constant daily effort, Jeremy can stand and walk for short periods with adaptive equipment. Despite this incredible progress, Jeremy's home impeded his ability to perform everyday tasks. That's when the Gary Sinise Foundation, supported by Nortek Security & Control (NSC), Lutron, Yale Locks and a local home automation integrator, along with numerous other partners, donors, volunteers and contractors, sprung into action.
NSC contributed the ELAN® smart home control system and the components needed to provide distributed audio using SpeakerCraft® speakers, distributed video, IP surveillance camera protection, complete 2GIG® home security system, power conditioning and protection, thermostats and audio speakers. Lutron provided Lutron RadioRA2 lighting control and QS Triathlon motorized window shades at a discount. Yale contributed VeraEdge lock mechanisms for integration with the ELAN control system.
"I'm very proud to work with the Gary Sinise Foundation and NSC on these projects," said Jon Linville, owner of electronics integration firm Innovative Audio and Video in Arlington, Va., who designed and installed the home's digital infrastructure, donating his time so that Maj. Haynes and his family would have powerfully simple technologies that enhance comfort, security and control over house-wide systems. "It's such an amazing program for families that have given so much for our country, and I feel it's the least I can do to help out."
Maj. Haynes expressed his heartfelt appreciation to all who participated. "Things that other people could do in 10 minutes, like take a bath, used to take me upwards of an hour," he said. "Now, thanks to the Gary Sinise Foundation and our new adaptive home, I can live a normal life. There's a big difference between a 24-inch door and a 36-inch door. Now I can maneuver my wheelchair into my children's bedroom to tuck them in and kiss them good night. I am so eternally grateful."
"We are proud to team up with the Gary Sinise Foundation to provide our wounded heroes with the resources they need to restore their independence and mobility," said Richard Pugnier, vice president of marketing at NSC. "Honoring our nation's heroes is one of the most rewarding things we do."
See the Gary Sinise Foundation Videos with Maj. Haynes:
About the Gary Sinise Foundation
The Gary Sinise Foundation was established under the philanthropic direction of actor Gary Sinise, who has been an advocate of our nation's defenders for nearly forty years. Our mission is to serve our nation by honoring our defenders, veterans, first responders, their families, and those in need. We do this through a number of national and local programs, funded by the generosity of the Foundation's 75,000+ donors. These programs—designed to entertain, educate, inspire, strengthen, and build communities—serve America's heroes and their loved ones 365 days a year. To learn more, please visit www.garysinisefoundation.org
About Nortek Security & Control
Nortek Security & Control LLC (NSC) is a global leader in smart connected devices and systems for residential, security, access control and digital health markets. NSC and its partners have deployed more than 5 million connected systems and over 25 million security and home control sensors and peripherals. Through its family of brands, NSC designs solutions for national telecoms, big-box retailers, OEM partners, service providers, security dealers, technology integrators and consumers. Headquartered in Carlsbad, Calif., NSC has over 50 years of innovation and is dedicated to addressing the lifestyle and business needs of millions of customers every day. For further information, visit www.nortekcontrol.com.
Other brand names and product names mentioned herein may be the trademarks, tradenames, service marks or registered trademarks of their respective owners.
Press Contacts
Cat Toomey
President and CEO,
CATalyzing Communications
317.514.5546
Cat.toomey@nortekcontrol.com
Marielle Gilbert
PR & Communications Manager
Gary Sinise Foundation
203.816.7734
mgilbert@garysinisefoundation.org
Stay in the know!
Get the latest from Nice, including tips, new product information, and more.