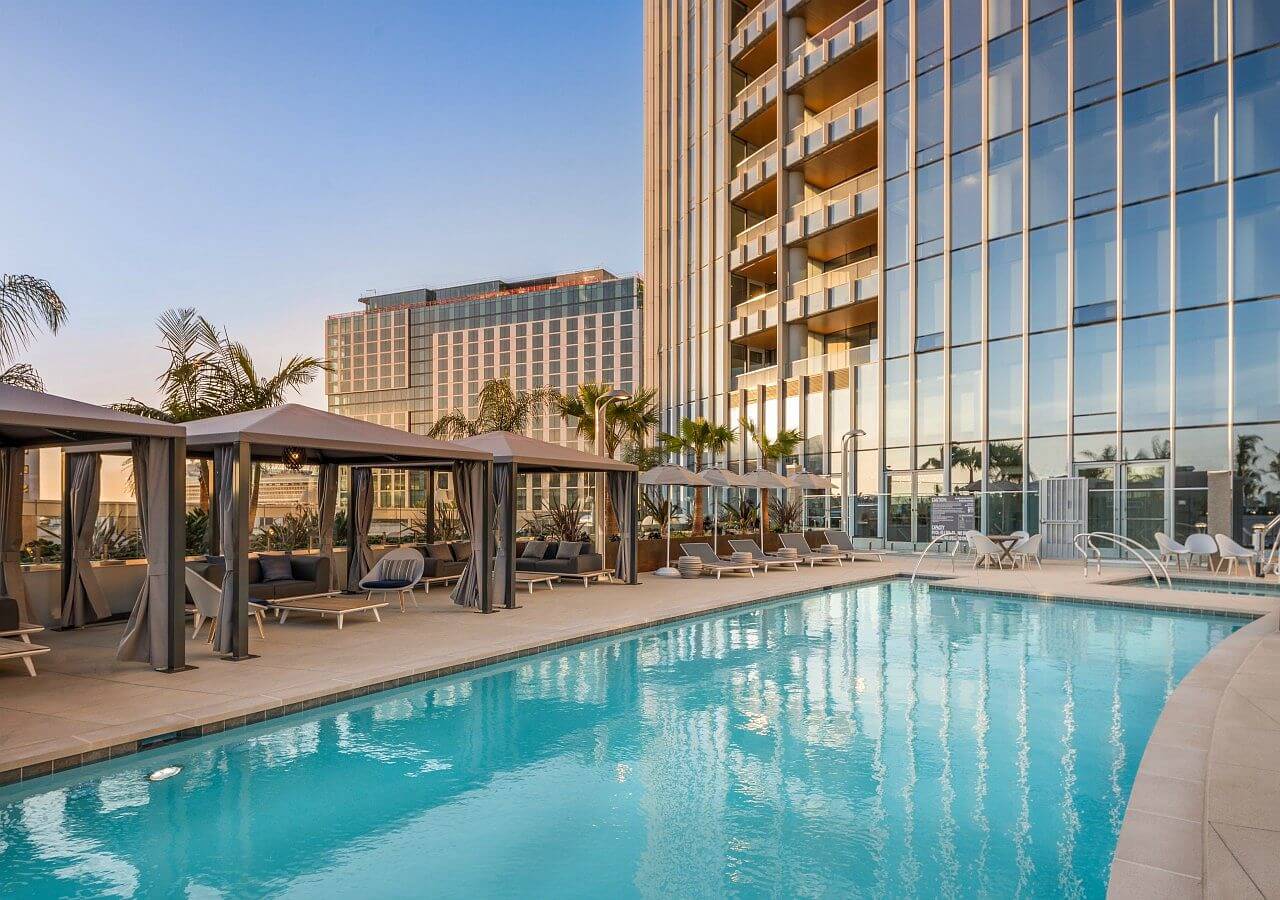 In a city where the sun almost always shines, and the ocean waves are mere miles away from most – it's no wonder San Diego boasts a life of luxury. High-rise apartments and condominiums line the sky downtown, and among them you'll find the Pacific Gate condos.
Inside the building, the goal of ELAN® control systems dealer, AbsoluteAV, was to match the luxurious life San Diegans look for when they live in the city. With full automation proposed for each of the 215 condos, units were wired for complete surround sound and music and touchscreen panels were installed to provide easy control of lighting and shading. Homeowners had the chance to add more features if they so choose. All the equipment necessary to run it is neatly tucked away in an easily accessible closet or underneath the living room TV.
ELAN technology is accessible no matter where you are inside Pacific Gate. Each condo was given a 7-inch ELAN touch panel on the wall. Common areas feature state-of-the-art control with ELAN touch panels in various spaces, including a theater room, a gym and community lounge. Music is easily adjusted and played on the pool deck or in the lobby.
But the project came with its challenges. Previously, the plans were to interact with a certain HVAC system. But when AbsoluteAV found that was not possible, owner, Daniel Craig, had to figure something else out. Rather than a Coolmaster in every unit, they downsized to using one per floor and found it worked.
It was important to Craig and his team that the homeowners/tenants and the builder knew how to use the advanced products placed throughout the building. Offering anyone's help, his company has been trusted to continue educating people about the technology and service it when it needs repairs. It's a point of honor for Craig and all AbsoluteAV.
"We continue to serve these condo homeowners today, and this project was such an amazing launching point for our company," Craig said. "We have built wonderful relationships and feel we are a part of the building and the families that call Pacific Gate home. We know more than half of the people in this beautiful building!"
Craig was originally working with another company when he started working on the project – but picked it up with his company later down the line. To date, it's one of his favorite projects to date.
"This was a massive undertaking and launching moment for us, and today it's nice to have one of the most luxurious buildings in town be such a key foundation and part of our business," he said. "It feels like it's our building and there's a sense of pride by all of our team in that."
Since its completion, the project continues to bring in new business. Over the past two to three years, some of the condos were sold to new buyers – but the referrals continue to be sent to Absolute AV for help.
Photos below courtesy of AbsoluteAV. To see more ELAN Control Systems projects, visit our gallery.
Stay in the know!
Get the latest from Nice, including tips, new product information, and more.