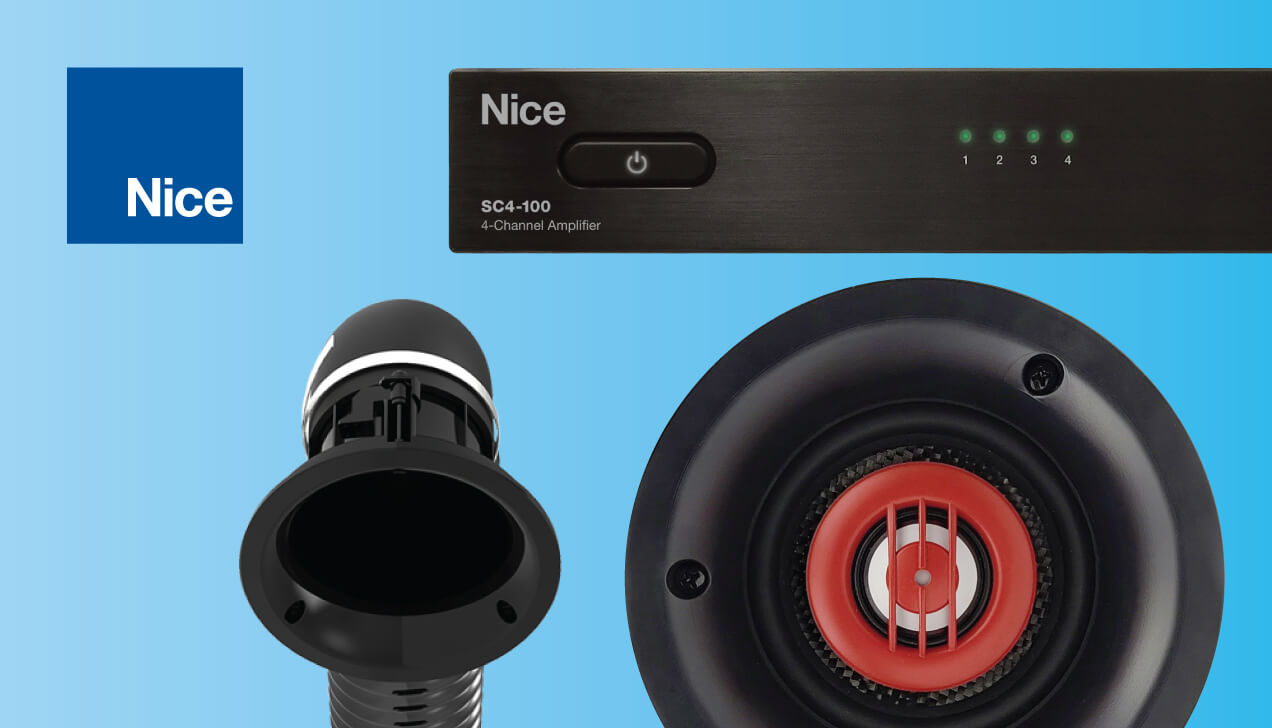 Press Releases
August 24, 2023
Nice Expands Its Line of Audio Solutions, Unveiling New Speakers and an Innovative Amplifier with Industry-leading Sound Technology Ahead of CEDIA
All-new Small Aperture Speaker and Subwoofer, Soundbar, AIM MK3 speakers, and 4-Channel Amplifier mark the first line of Nice Audio products to launch following the rebrand of SpeakerCraft®
CARLSBAD, Calif., August 24, 2023 – Nice, a global leader in Home and Building Management solutions, today announced the launch of its SC-IC3 Small Aperture Speaker, SC-IC-SUB8 Small Aperture Subwoofer, SC4-100 4-Channel Amplifier, SB-40P Soundbar, and AIM MK3 architectural speaker series, with plans to debut the new products at CEDIA 2023. The announcement marks the first series of advanced, Nice-branded audio solutions as part of the company's broader transition of the SpeakerCraft® brand, along with ELAN® and Panamax® energy management to offer more robust whole Home Management solutions by the end of 2023. Through greater investment in innovation and its product catalogue in the audio space, Nice underscores its commitment to further develop its portfolio in the speaker category and deliver a complete ecosystem of high-quality, integrated solutions to partners and customers.
"We are thrilled to build on the SpeakerCraft legacy with the first in a new series of Nice Audio solutions," says Jeff Shaw, Vice President of Product Management. "With this next stage, we are committed to enhancing the customer and partner experience through continued innovation, performance, and flexibility. In doing so, we intentionally optimized these products to work together as a complete system or as standalone devices to meet the needs of integrators and designers."
Nice SC-IC3 Small Aperture Speaker
With an emphasis on elegant performance, the small aperture speaker offers versatile installation options that are quick and easy with both round and square grilles included and flush mount kits available. The Nice SC-IC3 High Performance 3.5" In-Ceiling Speaker meets the aesthetic needs of modern homeowners leveraging its carbon fiber woofer, massive 1" aluminum tweeter, and custom crossover design to deliver impressive, dynamic sound through a 4.75" opening.
Nice SC-IC-SUB8 Small Aperture Subwoofer
Delivering best-in-class bass through a small opening that blends seamlessly into modern home aesthetics, the Nice SC-IC-SUB8 High-Performance Small Aperture In-Ceiling Subwoofer boasts filtering circuits that remove unwanted frequencies, a custom woofer and dual 1 ½" voice coils resulting in optimal performance.
Nice SC4-100 4-Channel Analog Filtering Amplifier
The SC4-100 4-Channel Analog Filtering Amplifier is designed for flexibility and convenience in distributed audio and home entertainment applications. Powerful, easy to configure and install, the SC4-100 delivers up to 100 watts of power to each of four independent channels and bridgeable in pairs-enabling 2-, 3- or 4-channel configuration.
Additionally, each channel has two selectable analog high-pass filters to optimize the performance of connected satellite speakers or subwoofers, without the hassle of DSP or IP. Independent level control, single indicators, audio sensing, and in and out triggers round out the rich feature set.
The Nice SC4-100 4-Channel Amplifier offers exceptional performance, features, and flexibility in an elegant single rack mount chassis.
Nice SB-40P Soundbar
This 3-channel passive soundbar delivers outstanding, dynamic sound with an independent center chamber that produces enhanced dialog clarity, and left and right chambers that create a wide soundstage for music and movies. The combination of graphite, polypropylene, and carbon fiber materials, produces exceptionally clear and dynamic audio perfect for a stand-alone home entertainment solution, or integrated into a whole home audio system.
Nice AIM MK3 Speakers
The AIM MK3 leverages the innovative ARC Tweeter Array™, aimable woofer and WavePlane™ technology with a newly designed crossover to support the most demanding audio content and tailored to deliver explosive dynamics, three-dimensional detail, and rich musicality for high-fidelity immersive audio platforms. With space-age materials, acoustic innovations, and five models, the Nice AIM MK3 series offers unmatched flexibility and performance.
Building on the legacy of premier audio technology pioneered by SpeakerCraft, the evolution of Nice Audio solutions solidifies the company as an industry leader in the speaker category. To place an order for the Small Aperture Speaker, Small Aperture Subwoofer, 4-Channel Amplifier, Soundbar, or AIM MK3 speakers, please contact your local Nice regional sales manager. For more information, visit our Small Aperture Speaker and Subwoofer page.

About Nice North America
Nice North America, a subsidiary of Nice, is one of the largest manufacturers of smart residential, commercial, and industrial solutions in the world, with seamless and easy-to-install technology for smart home control, security and automation, perimeter access, protection and control, sunshade solutions, power management, and whole home entertainment. The company is headquartered in Carlsbad, CA, with several R&D and manufacturing centers across the region. Professional integrators, dealers, and distribution partners grow their business with CEU training and education, technical and field support, and award-winning sales and marketing programs. The company is a proud national sponsor of the Gary Sinise Foundation R.I.S.E. program, supporting wounded veterans and their families with specially adapted smart homes. For further information, visit www.niceforyou.com

Press Contacts:
Agency Contact
BCW
Brittany Gbur
brittany.gbur@bcw-global.com
Corporate Contact
Mark Burson
Chief Marketing Officer
Nice North America
m.burson@niceforyou.com
Stay in the know!
Get the latest from Nice, including tips, new product information, and more.