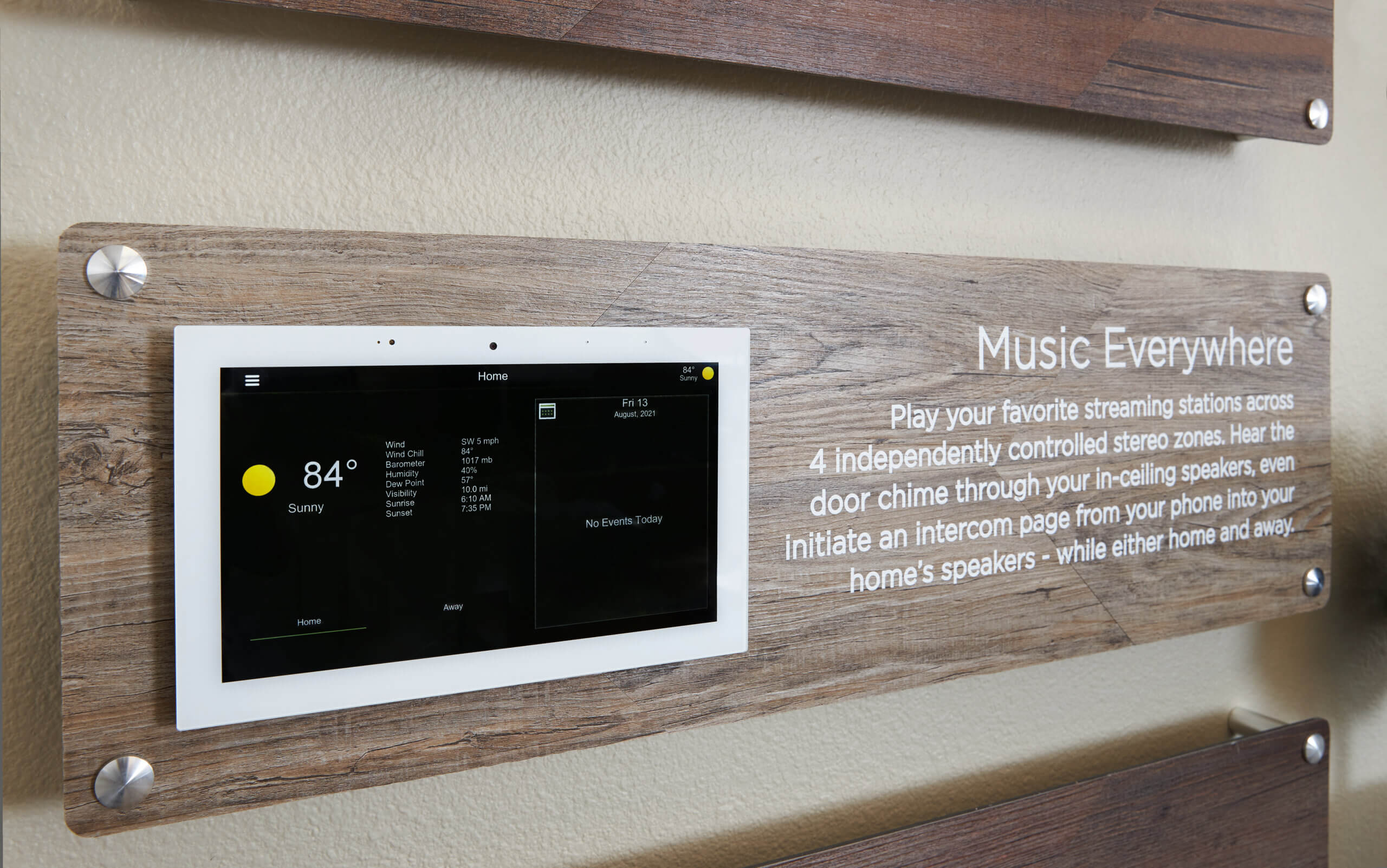 Press Releases
January 19, 2022
Christian Brothers Interiors Brings Technology into the New Home Personalization Process with the ELAN New Home Program™
Christian Brothers Interiors design center showcases latest smart home technology and services backed by the Nortek Control team's full marketing, sales and technical support giving builders a competitive advantage
CARLSBAD, Calif., January 19, 2022 – Nortek Control and Christian Brothers Interiors (CBI) have partnered through the ELAN New Home Program™ to offer smart home products and services to homebuyers in the San Diego area. Giving builders a competitive advantage in selling personalized new homes that include the smart home features buyers are now demanding, the CBI design center showcases the comprehensive range of customizable technology solutions available from ELAN® control systems. Also, through the program, CBI is expertly backed by full marketing, sales and technical support from the Nortek Control builder services team. Design centers these days are just beginning to incorporate technology in their facilities and have learned it draws attention and attraction from home buyers. By adding an ELAN interactive display that presents technology from a lifestyle perspective, CBI demonstrates a forward-thinking approach to increasing overall home values, meeting homeowners' growing expectations, and helping builders sell more homes – faster.
"We couldn't be happier with the support we receive from the Nortek Control builder services team. The service we receive continually validates the reasons we selected the award-winning ELAN devices' single-app solution that delivers the best user experience," explained Tiffany George, President of Builder Services and Design Centers at CBI. George added, "Displaying ELAN smart home products has become a valuable asset our designers regularly use when working with homebuyers to demystify technology. Having this working display in our design center really showcases the features and capabilities ELAN solutions offer, making it a much easier process for homebuyers to select the smart home technologies that best suit their everyday lives."
"We are thrilled that CBI took ownership of the smart home category in letting homebuyers directly experience how technology can enhance their lifestyle by interacting with an ELAN system in the design center before purchasing," said Bret Jacob, Director of Builder Services at Nortek Control. "Today, incorporating technology should be just as much a standard feature for builders as the kitchen appliances or bathroom fixtures. Our builder services team works closely with builders and integration partners to create a unique set of technology option packages best suited to their potential homebuyers."
Nortek Control launched the ELAN New Home Program to fully support home builders with integrating scalable smart home control and automation solutions. With more than 150 builder partners, this comprehensive program support includes design center displays, sales training, consulting services, builder-branded marketing collateral, as well as compelling lifestyle packages that can be personalized to meet the needs of individual buyers.
Highlighting how builders can leverage similar new home personalization and value benefits from a smart home technology display is the subject of a recently-published CBI and ELAN New Home Program case study. The case study outlines the many profitable advantages builders can realize when they give prospective homeowners the opportunity to see firsthand how connected smart home technology can enhance their life when buying a new home.
To view the CBI/ELAN New Home Program case study or to get more information on the complete range of advanced, proven and reliable ELAN home systems, click on the link: elancontrolsystems.com/CBI-Case-Study/
About CBI
Christian Brothers Interiors (CBI) strives to enhance lifestyles by helping build personalized, connected homes on schedule. CBI offers a complete Finished Home Design Program, which includes personal and online interior design services. Their design center serves to help homebuyers explore and select their options during the personalization process.
About Nortek Control
Nortek Control LLC is a global leader in smart connected devices and systems for residential and commercial customers, serving the security, access, AI, health and wellness, control, and power/AV markets. Nortek Control and its partners have deployed more than 5 million connected systems and over 25 million security and home control sensors and peripherals. Through its family of brands, the company designs solutions for national telecoms, big-box retailers, OEM partners, service providers, dealers, technology integrators and consumers. Headquartered in Carlsbad, Calif., Nortek Control has over 50 years of innovation and is dedicated to addressing the lifestyle and business needs of millions of customers every day. For further information, visit www.nortekcontrol.com.
©2022. Nortek Security & Control LLC. ELAN and ELAN New Home Program are trademarks of Nortek Security & Control LLC. All rights reserved. Other brand names and product names mentioned herein may be the trademarks, tradenames, service marks or registered trademarks of their respective owners.
###
Agency Contact
Annette Keller
Keller Communication
annettekeller@nortekcontrol.com
This story first appeared on the ELAN Control Systems website.
Stay in the know!
Get the latest from Nice, including tips, new product information, and more.