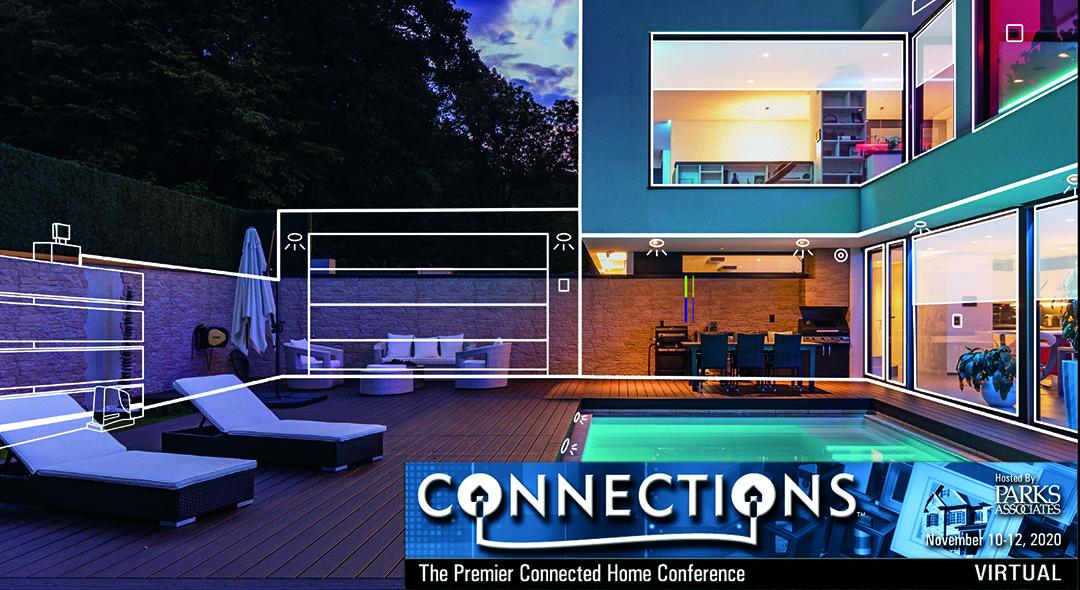 Recently, the connected home has evolved from a high-end concept toward a broader market opportunity with incredible potential. Several high-profile market disruptions are emerging as a result of broad-based adoption, smartphone usage and consumer expectations for connected solutions that provide a personalized experience.
As a result of progression in the sector, Nice participated as a Platinum sponsor of CONNECTIONS™ Community, the Premier Connected Home Conference hosted by Parks Associates, a leading company in market intelligence regarding IoT residential products and consumer perceptions. At the CONNECTIONS™ Community event, which took place online from 10th to 12th November, brands and industry professionals had the opportunity to attend virtual conferences and experience digital networking, focused on the connected home and IoT industries.
Mark Owen Burson, VP Marketing and Product Management, Nice North America, joined the round table "DIY: Impact on Smart Home and Security". A panel of industry experts from across the DIY and Professional spectrum discussed consumer responses to ever-expanding DIY options, strategies for attaching recurring revenue services, dealer approaches to DIY, and the differentiation of DIY and professional services.
DIY and smart home products are adding opportunities to the market for professionally monitored security and driving changes in the home security business. These solutions offer advantages, such as lower-cost and contract-free monitoring options that attract new consumers. In the COVID-19 environment, direct-to-consumer sales of DIY systems and do-it-with me services offered by dealers have been successful.
Analyst research on the expansion and consumer adoption of DIY solutions and new business models introduced to the market highlight that 67% of security system owners have an interactive system that allows remote connection and control capabilities. Parks Associates research finds 30% of US broadband households own a smart home device and 31% own a security system. These households are also much more likely than average households to have a home improvement project planned during the COVID-19 pandemic and lockdown, so these consumers represent a prime target for the adoption of new and innovative connected solutions. 23% of households plan to start a home renovation project in the next six months.
"Interactive features are now standard on both professionally installed and DIY systems as consumers embrace IoT-based features for all devices in the home" said Elizabeth Parks, President, Parks Associates. "Our research shows consumers increasingly expect smart features for all devices they buy, with a premium on compatibility, which creates excellent market conditions for integrated ecosystem offerings."
Talking about product offerings and differentiation, Mark Owen Burson said "For Nice, it's about complexity and function. Do users want a security system that can be installed in under an hour and also has smart home functionality; or do they want a fully integrated smart home system that blends into the home and can perform security functions? Most people know what they want but might not know exactly how to accomplish it or where to start. So, to guide our consumers or prospects, we like to ask questions and probe to help guide someone through to what their answers suggest they need. This also helps to build more trust between us and our customers."
If you want a deep dive into the DIY Smart Home and Home Security segment watch the full discussion here:
The CONNECTIONS™ Community event has been the opportunity to highlight the role of Nice as an international leader in the Smart Home and Smart Security. Our executives, Chris Carney, Founder and CEO – Abode; Mark Owen Burson, VP Marketing and Product Management – Nice North America; and Kristian Bergmann, Growth Director – FIBARO, talked about different needs of smart home consumers, new services and product offerings, leveraging connectivity and interactivity among the Nice Group Smart Home brands. Watch the video here:
Stay in the know!
Get the latest from Nice, including tips, new product information, and more.