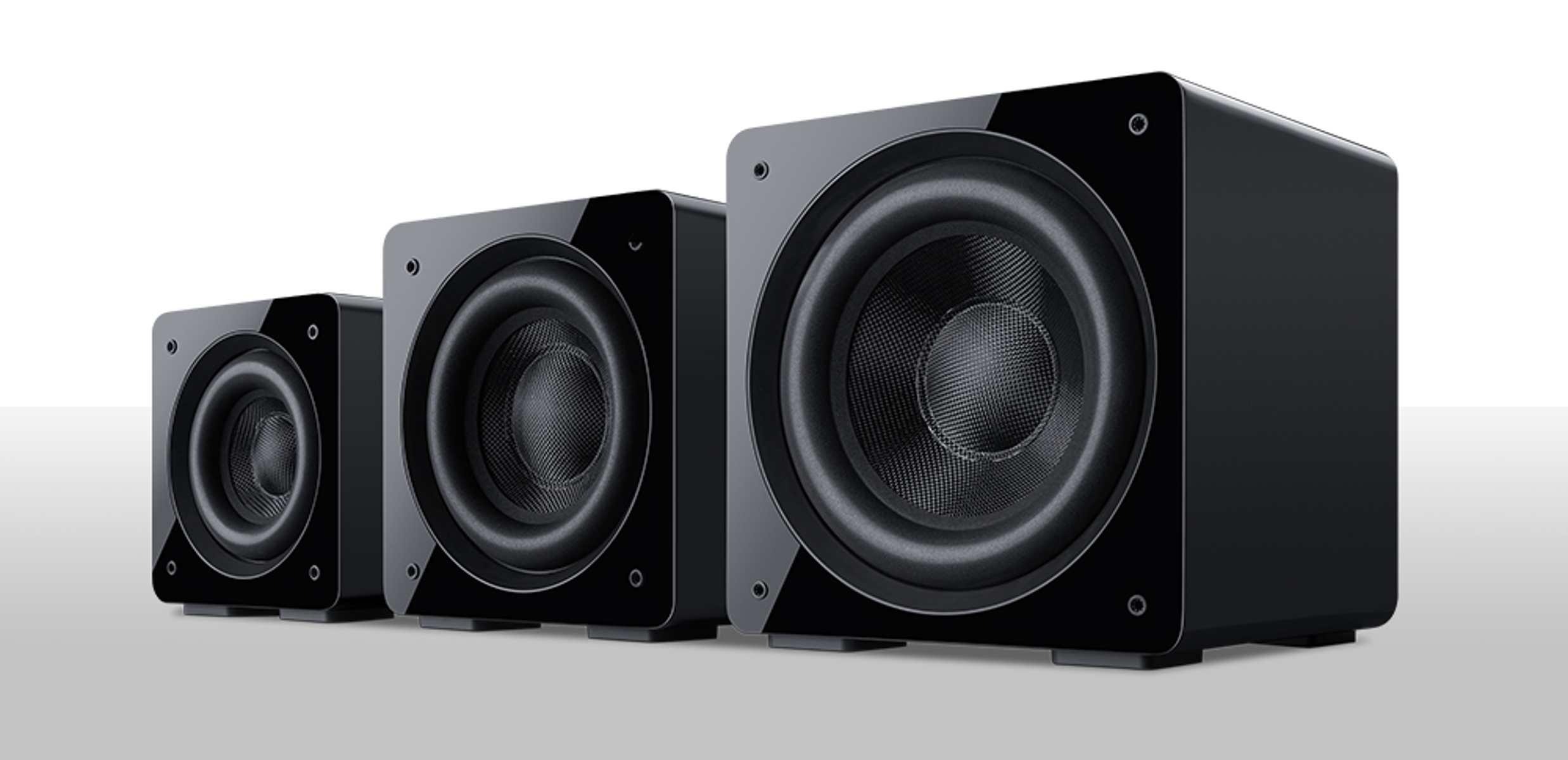 Product Announcements
June 15, 2021
Nortek Control Unveils Five New SpeakerCraft® Subwoofers, Bringing a Full Array of Unprecedented Sound and Bass Technologies to Market
New SpeakerCraft HRSi and XTEQi Subwoofers, packed with decades of design and innovation from Sunfire® products, deliver complete range of premium options and price points for every customer
CARLSBAD, CALIF., June 15, 2021 — With a legacy of superior sound technology, Nortek Control today announced the next generation of five (5) new SpeakerCraft® Subwoofers, bringing the total to nine (9) models launched this year. The new additions come directly on the heels of the March delivery of the four, newly award-winning SpeakerCraft SDSi Subwoofer Series, and all models include decades of the renowned bass design and technologies inherent in our Sunfire® subwoofers. The new SpeakerCraft HRSi and XTEQi Subwoofers include the best of the brand's historical engineering and expertise and bring them together with a new Sub Station Mobile App and additional 2021 innovations. The result is an all-encompassing series of the best-sounding, best-performing and best-sized subwoofers seen, felt or heard – a literal big boom for today's home entertainment boom.
Audio enthusiasts will recognize the unmistakable Sunfire® Subwoofer sound, bass and influence it has brought its sister brand. Technologies across the unprecedented new subwoofer collection include multiple industry firsts such as High Back EMF, allowing for an ultra-efficient cabinet to woofer size design. The entire family of subwoofers are based on decades of designs and bass from our line of Sunfire Subwoofers, while elevating the technologies and designs.
Incorporating the design legacy of Sunfire subwoofer and next generation technology, the SpeakerCraft portfolio delivers a whole new pinnacle of sound. The flagship model, the SpeakerCraft XTEQi-12 Subwoofer, features dual 12-inch force-canceling active drivers, each powered by a dedicated high-output 1000-watt amplifier, with onboard Digital Signal Processing (DSP) and new Sub Station App setup and control. This Subwoofer accurately reproduces low frequencies down to 17Hz, delivering an experience that can be both felt and heard, ideal for playback of music in listening rooms and movie content in home cinemas.
Rounding out the comprehensive line, the new HRSi Series of SpeakerCraft Subwoofers offers a step-up to the performance and unbeatable value of the SDSi Series Subwoofers. With remarkable audio quality, the SpeakerCraft HRSi Series includes three models (with 8, 10 or 12-inch fiberglass cone), and features 1000-watt amplifiers, High Back EMF fiberglass drivers and high-gloss, piano black lacquer finish.
"For decades, Nortek Control has been a leader in sound technology via our multi-brand strategy of audio and speaker brands," said Richard Pugnier, Vice President of Marketing at Nortek Control. "Our new, next generation SpeakerCraft subwoofers—with Sunfire technology inside—consolidate our audio innovation and prowess under one single, globally-renowned brand. With this comprehensive product introduction, we empower integrators to offer the finest in audio and bass technologies under the market leading SpeakerCraft brand, so they can elevate and satisfy every project and client."
Other features of the all-inclusive line are a wireless audio kit for flexible subwoofer placement paired with automated setup correction of acoustical room anomalies that are as easy as pressing a button in the new SpeakerCraft Sub Station Mobile App. Like all SpeakerCraft brand loudspeakers, the new subs pair perfectly with all custom installation control systems such as sister-brand ELAN® systems, for an enhanced, complete entertainment experience.
The award-winning triple driver SDSi Series rounds out the newly expanded lineup of floor-standing subwoofers with superb performance at value-driven prices and offer solutions for every home and room. Available in four models including the SDSi-8, SDSi-10, SDSi-12 and SDSi-15, the SpeakerCraft SDSi Subwoofers are compact and feature sophisticated technology, including one active driver paired with dual passive radiators.
Jeff Shaw, Senior Director of Product Management for Nortek Control added, "Every SpeakerCraft product journey is driven by our never wavering devotion to great and exciting sound. The new Sub Station Mobile App with the extensive range of new SpeakerCraft Subwoofers not only sets an entirely new benchmark for premium subwoofer design, performance and setup, together they also deliver the most technologically advanced, elegant solution for every integrator and client."
SpeakerCraft SDSi Series Subwoofers are now available. The new HRSi and XTEQi SpeakerCraft Subwoofers begin shipping June and July 2021. The Subwoofer complete family starts at $599 MSRP. Integrators can request access to the Nortek Control PRO Portal by contacting PRO@nortekcontrol.com.
Download high-resolution images here
About SpeakerCraft
SpeakerCraft® the legendary and internationally recognized speaker brand by Nortek Control, combines premier audio with designer aesthetics to fill homes with music and audio enjoyment inside and out. Reverberating through every SpeakerCraft loudspeaker and subwoofer is a collective 100 years of audio innovation, design and technology from the Nortek Control portfolio. SpeakerCraft products are distributed through a comprehensive channel of select dealers throughout the United States, Canada and countries worldwide. For more information, visit www.speakercraft.com.
About Nortek Control
Nortek Security & Control LLC is a global leader in smart connected devices and systems for residential and commercial customers, serving the security, access, AI, health & wellness, control and power/AV markets. Nortek Control and its partners have deployed more than 5 million connected systems and over 25 million security and home control sensors and peripherals. Through its family of brands, the company designs solutions for national telecoms, big-box retailers, OEM partners, service providers, dealers, technology integrators and consumers. Headquartered in Carlsbad, Calif., Nortek Control has over 50 years of innovation and is dedicated to addressing the lifestyle and business needs of millions of customers every day. For further information, visit www.nortekcontrol.com.
©2021, Nortek Security & Control LLC. All rights reserved. SpeakerCraft, Sunfire and ELAN are registered trademarks. Other brand names and product names mentioned herein may be the trademarks, tradenames, service marks or registered trademarks of their respective owners.
Press Contacts
Cat Toomey
President and CEO
CATalyzing Communications
317.514.5546
Cat.toomey@nortekcontrol.com
Stay in the know!
Get the latest from Nice, including tips, new product information, and more.