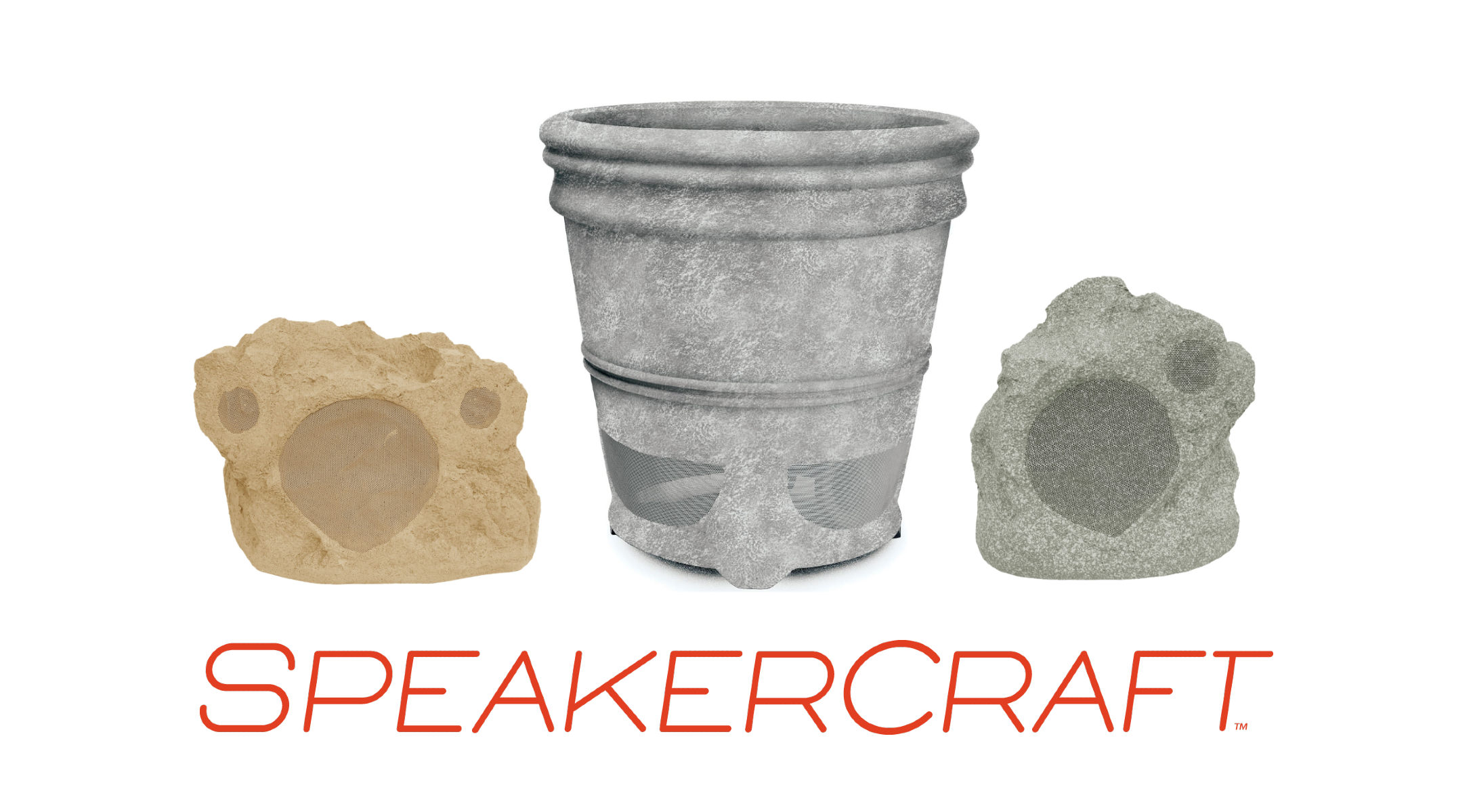 Product Announcements
September 16, 2021
Nortek Control Launches New SpeakerCraft® Outdoor Loudspeakers to Rock Every Landscape with Powerful Sound and State-of-the-Art All-Weather Features
SpeakerCraft planter and rock speakers deliver a whole new level of high-performance audio and elegance to blend in from pools to patios while withstanding the harshest environments
CARLSBAD, CALIF., September 16, 2021 — Nortek Control today announced the launch of three new SpeakerCraft® Rock and Planter Loudspeakers developed to blend in perfectly with outdoor surroundings while bringing the unmistakable high-quality sound of SpeakerCraft speakers to outdoor spaces. The SpeakerCraft RS6 and RS8i rock speakers are available in stunning granite, speckled granite, sandstone and shale brown. The new SpeakerCraft PS6Si planter speaker comes in a natural weathered concrete finish and is designed for use with live plants. With the addition of these new outdoor speakers, the SpeakerCraft brand has brought a total of eighteen new speakers and subwoofers to market in 2021. Across the line, integrators and customers gain access to best-in-class sound technologies and design aesthetics.
Crafted for years of use, the new SpeakerCraft Rock and Planter Loudspeakers offer superior sound, geo-realistic finishes and nofade durable color and cover every outdoor application, audio requirement and visual aesthetic. Each speaker is crafted with military-grade construction and comes with low-diffraction MicroPerf aluminum grilles to maintain a natural outdoor look and create an immersive, acoustically transparent sound experience. For advanced performance, the exclusive ConeForward design positions the drivers close to the grilles to enhance midrange intelligibility and provide highly accurate audio. The SpeakerCraft PS6Si planter speaker features a unique and innovative movable tweeter assembly that adjusts the sound dispersion from 180° for placement in open areas to 90° for corners.
"Designed from the ground up to be heard and not seen, our new SpeakerCraft Rock and Planter Outdoor Loudspeakers pack the best of our audio technologies into new forms and finishes that will elevate every outdoor project," said Richard Pugnier, Vice President of Marketing at Nortek Control. "And with outdoor entertainment continuing to grow at unprecedented rates, we believe we're bringing our dealers the most relevant, exciting solutions to their clients who are spending more time and money outdoors."
"Our new SpeakerCraft outdoor speakers are a direct response to the ever-evolving needs of our custom integrators and were designed to withstand the harshest of weather conditions anywhere, including temperature extremes from -50° to 185° F (-45° to 85° C)," shared Jeff Shaw, Senior Director of Product Management for Nortek Control. "When combined with their unique nofade, beautiful appearance, integrators can extend audio entertainment with total confidence anywhere their client wishes."
In addition to offering many new performance features, options and legendary, rock-solid reliability, the new SpeakerCraft Rock and Planter Loudspeakers are backed by a 5-year limited warranty.
About SpeakerCraft
SpeakerCraft®, the legendary and internationally recognized speaker and subwoofer brand by Nortek Control, combines premier audio with designer aesthetics to fill homes with music and audio enjoyment inside and out. Reverberating through every SpeakerCraft loudspeaker and subwoofer is a collective 100 years of audio innovation, design and technology from the Nortek Control portfolio. SpeakerCraft products are distributed through a comprehensive channel of select dealers throughout the United States, Canada and countries worldwide. For more information, visit www.speakercraft.com.
About Nortek Control
Nortek Security & Control LLC is a global leader in smart connected devices and systems for residential and commercial customers, serving the security, access, AI, health & wellness, control and power/AV markets. Nortek Control and its partners have deployed more than 5 million connected systems and over 25 million security and home control sensors and peripherals. Through its family of brands, the company designs solutions for national telecoms, big-box retailers, OEM partners, service providers, dealers, technology integrators and consumers. Headquartered in Carlsbad, Calif., Nortek Control has over 50 years of innovation and is dedicated to addressing the lifestyle and business needs of millions of customers every day. For further information, visit www.nortekcontrol.com.
©2021, Nortek Security & Control LLC. All rights reserved. SpeakerCraft is a registered trademark of Nortek Security & Control LLC. Other brand names and product names mentioned herein may be the trademarks, tradenames, service marks or registered trademarks of their respective owners.
Press Contact

Cat Toomey
President and CEO
CATalyzing Communications
317.514.5546
Cat.toomey@nortekcontrol.com
Stay in the know!
Get the latest from Nice, including tips, new product information, and more.