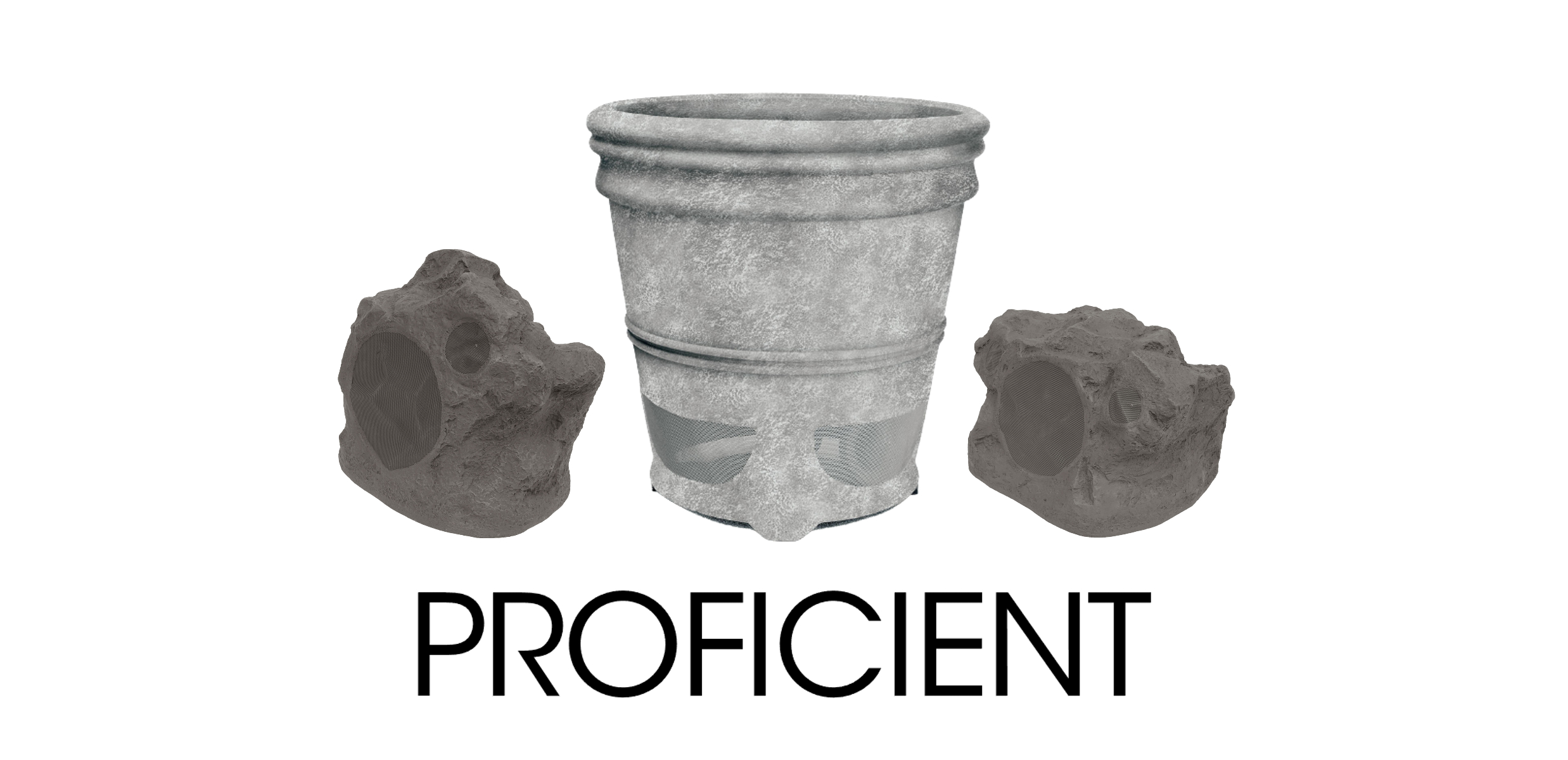 Product Announcements
August 17, 2021
Nortek Control Announces All-New Proficient® Protege Series Outdoor Speakers with Superior Sound, Georealistic Finishes, and NoFade Color
Two new rock and one new planter speaker provide seamless natural look for outdoor audio that blends in beautifully with landscapes and withstands the harshest conditions Mother Nature can muster
CARLSBAD, CALIF., August 17, 2021 — Nortek Control today announced the introduction of Proficient® Protege rock and planter loudspeakers that are designed to blend into their surroundings while bringing our renowned high-quality speaker sound to outdoor spaces. The two new Proficient rock speakers (PAS-RS6 and PAS-RS8i) are available in granite, speckled granite, sandstone and shale brown. The new planter speaker (PAS-PS6Si) comes in a natural weathered concrete finish and is designed to be used with live plants. The new Proficient outdoor speakers join the Proficient Protege Series and are available worldwide from authorized distributors.
Built for years of trouble-free use, these versatile new rock and planter loudspeakers cover virtually every outdoor aesthetic and application. Each durably crafted Proficient outdoor speaker cabinet comes with shaped low-diffraction MicroPerf aluminum grilles to maintain a realistic look and create an acoustically transparent sound experience. For enhanced audio performance, the exclusive ConeForward design positions the drivers close to the grilles to improve midrange intelligibility. Additionally, the planter speaker features an innovative movable tweeter assembly that adjusts the sound dispersion from 180° for placement in open areas, to 90° for corners.
"Outdoor audio is a key and ever-growing market segment for many of our Dealers," said Richard Pugnier, Vice President of Marketing at Nortek Control, "and the new Proficient Protege rock and planter speakers provide an excellent opportunity for the distribution channel to extend sales into outdoor spaces where customers are spending much more time. In addition to offering the legendary, rock-solid reliability that's backed by a 5-year limited warranty, the new speakers incorporate our latest technological advantages that provide superior audio coverage and sound dispersion."
"The Proficient PAS-RS6, PAS-RS8i and PAS-PS6Si speakers are made of a custom multi-layer fiberglass construction, with double seals on the tweeter, woofer and enclosure cover," added Jeff Shaw, Senior Director of Product Management for Nortek Control. "These speakers have been put to our design test and can withstand the harshest conditions anyone will normally encounter, including temperature extremes from -50° to 185° F (-45° to 85° C)."
The Proficient Protege outdoor rock and planter speakers are now available from authorized distributors. Dealers can obtain pricing information from their local distributor. Distributors can request access to the Nortek Control PRO Portal for additional product details by contacting PRO@nortekcontrol.com.
About Proficient
Proficient, a Nortek Control brand, combines exceptional audio quality with designer aesthetics to fill any home with music and entertainment enjoyment inside and out. Internationally recognized for innovation in architectural loudspeakers and subwoofers, Proficient is available through a comprehensive channel of select distributors throughout the United States, Canada and countries worldwide. For more information, visit www.proficientaudio.com.
About Nortek Control
Nortek Security & Control LLC is a global leader in smart connected devices and systems for residential and commercial customers, serving the security, access, AI, health & wellness, control and power/AV markets. Nortek Control and its partners have deployed more than 5 million connected systems and over 25 million security and home control sensors and peripherals. Through its family of brands, the company designs solutions for national telecoms, big-box retailers, OEM partners, service providers, dealers, technology integrators and consumers. Headquartered in Carlsbad, Calif., Nortek Control has over 50 years of innovation and is dedicated to addressing the lifestyle and business needs of millions of customers every day. For further information, visit www.nortekcontrol.com.
tek Security & Control LLC. All rights reserved. Proficient and Sunfire are registered trademarks. Other brand names and product names mentioned herein may be the trademarks, tradenames, service marks or registered trademarks of their respective owners.
Press Contact
Cat Toomey
President and CEO
CATalyzing Communications
317.514.5546
Cat.toomey@nortekcontrol.com
Stay in the know!
Get the latest from Nice, including tips, new product information, and more.