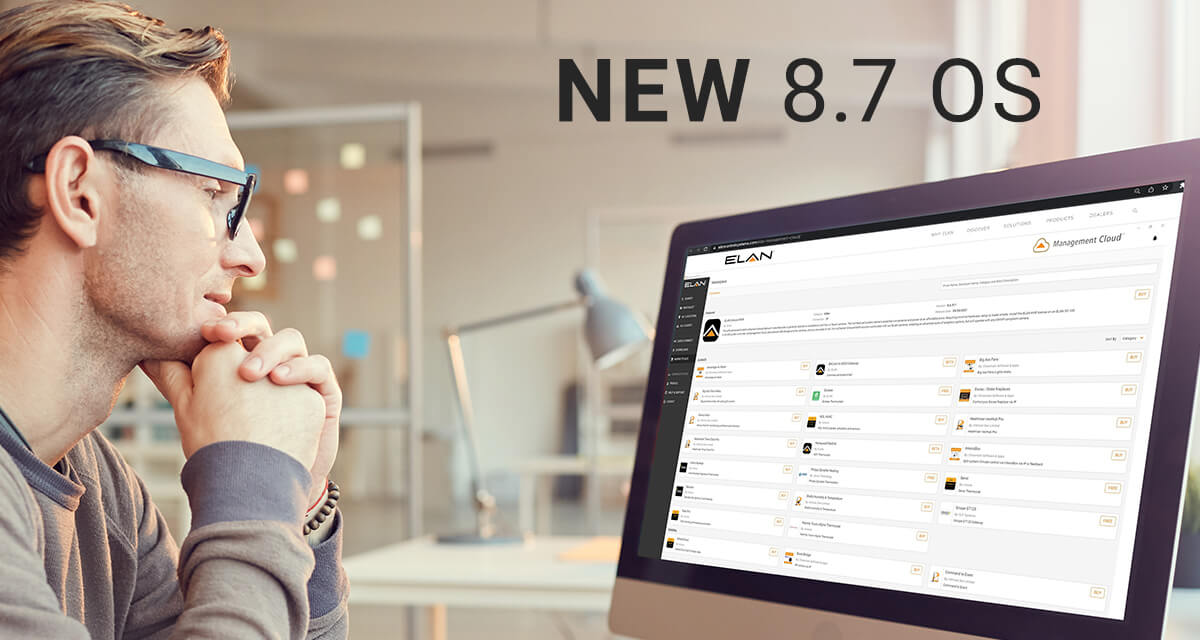 Product Announcements
April 20, 2022
Nice/Nortek Control Delivers Major New Features for Smart Home Control with the Release of Software Upgrade 8.7 for ELAN® Control Systems
As one of the company's most significant software releases to date, new features include Bluetooth® support for ELAN® Touch Panels, Handheld Remote Direct connection and tight integration with new utilities, wellness products and 2GIG EDGE™ Security Panels
CARLSBAD, CALIF., April 20, 2022 — Nice/Nortek Control today announced the release of its Software Upgrade 8.7 for ELAN® Control Systems, shepherding the latest control technology and broader integration to deliver the convenience and personalization that homeowners want. Topping the list of many major new features and enhancements, new Direct Control functionality, Bluetooth player capability, an entirely new subcategory of utility products integration, and the first-ever integration with the 2GIG EDGE™ Security Panel make this update significant for both integrators and end users of ELAN products. With these and multiple other new features, integrators can provide their customers with an even more compelling and intuitive all-in-one solution with simplified integration for security, control, entertainment and comfort. The 8.7 Software adds complete control to important lifestyle aspects of today, such as home security, wellness, and home integrity (i.e., water leak detection) components without additional hardware.
The new Direct Control feature allows ELAN Remote Controls to communicate natively with an ELAN Controller, rather than using the home Wi-Fi, for instant connections even in environments where home networks may be challenging. The new Bluetooth player instantly turns every ELAN Touch Panel into a Bluetooth receiver, eliminating the need for any external receiver. Anyone in the home, whether family members or guests, can connect their smart phone through an ELAN Touch Panel to play their own music through the whole home audio system.
This Software Upgrade also provides extensive new integration with popular home wellness and security products for an easier to design, install, and enjoy total control solution. For example, a new subcategory for popular utility products, such as power management and conditioning, air quality, and leak detection, has been added to bring more visibility to the wellness of the home for homeowners. Further, setting the standard for security and control from a single platform, the 8.7 Software is the first to deliver seamless integration with the 2GIG EDGE Security Panel.
"Today we share the extraordinary enhancements to our legendary ELAN Control System, further strengthening our commitment to delivering a modern smart home platform that brings homeowners the most control and convenience," said Richard Pugnier, Vice President of Marketing and Education at Nice/Nortek Control. "Our 8.7 Software substantially extends the strong capabilities of the ELAN System, making smart home integration even easier while addressing the ever-evolving interests of today's homeowners. From our transparent, streaming music connection between smartphones and ELAN Touch Panels, to premium security integration, to monitoring for home health — this software upgrade emphasizes the power and timeless value of an ELAN Control System and gives integrators expanded opportunities for success."
Added Jeff Shaw, Vice President of ELAN Product Management for Nice/Nortek Control, "In addition to these upgrades, we included many more of our dealers' most requested features, making this software release one of the most comprehensive Software releases we have brought to market to date. For example, ELAN Intercom now leverages native mobile phone integration so users will never miss a call, support for KNX® RGBW lighting has been added, plus exciting new live layer themes and much more. We invite our integrators to check out the full list of new capabilities in our Management Cloud to offer their customers the most relevant, easy-to-use control offerings bar none."
Some of the specific requested utility solution offerings include ELAN Control Systems integration with the 2GIG EDGE™ panel, Moen Flo® and Phyn® water leak detection, TED® energy-efficiency monitoring, and Broan/Nutone Overture® indoor air quality control. Combined, these new additions further advance Nice/Nortek Control initiatives to be 'Stronger Together' and help integrators create healthier, safer homes and better smart home experiences for homeowners.
Authorized dealers can see the full list of features and access the new ELAN 8.7 Software via the Management Cloud.
About ELAN
The award-winning ELAN® whole-house entertainment and control solutions, by Nice/Nortek Control, are distributed through a comprehensive channel of select dealers throughout the United States, Canada, and countries worldwide. Its software was honored with a "Human Interface Product of the Year" award and continues to expand its intuitive functionality and customization to deliver the most personalized, feature-rich control experience available. ELAN control systems set the benchmark for today's smart homes with a single app interface to security, climate, entertainment, surveillance and video distribution products and integrations. To learn more, visit www.elancontrolsystems.com.
 About Nice North America
Nice North America designs and manufactures smart home and building automation solutions. Innovating since 1962, the company offers pro-install and DIY smart solutions in perimeter access, gates, barriers, access control, home security and automation, single-app intelligent control, sunshade solutions, whole home entertainment and video distribution for residential, commercial and industrial environments. Complementing its Nice branded solutions, its family of brands includes 2GIG, Abode, ELAN Control Systems, FIBARO, Furman, Gefen, HySecurity, IntelliVision, Linear, Mighty Mule, Numera, Panamax, Proficient Audio and SpeakerCraft. The regional division of Nice is headquartered in Carlsbad, CA with regional R&D, manufacturing centers in Kent, WA and Quebec, Canada; and distribution centers in Phoenix, AZ; Olive Branch, MI; Chicago, IL; and Atlanta, GA. Professional integrators, dealers and distribution partners grow their business with award-winning CEU training and education, technical and field support, and sales and marketing programs with customized brand assets. The company is a proud national sponsor of the Gary Sinise Foundation R.I.S.E. Program, supporting wounded veterans and their loved ones. For further information, visit www.niceforyou.com/na
©2022, Nice/Nortek Security & Control LLC. ELAN and 2GIG EDGE are trademarks of Nortek Security & Control LLC. All rights reserved. Other brand names and product names mentioned herein may be the trademarks, tradenames, service marks or registered trademarks of their respective owners.
Press Contacts
Heather Janssen
Communications Specialist, Nice/Nortek Control
Heather.Janssen@nortekcontrol.com
Corporate Contact
Richard Pugnier
Vice President of Marketing and Education, Nice/Nortek Control
Richard.Pugnier@nortekcontrol.com
This story originally appeared in the ELAN Control Systems website.
Stay in the know!
Get the latest from Nice, including tips, new product information, and more.