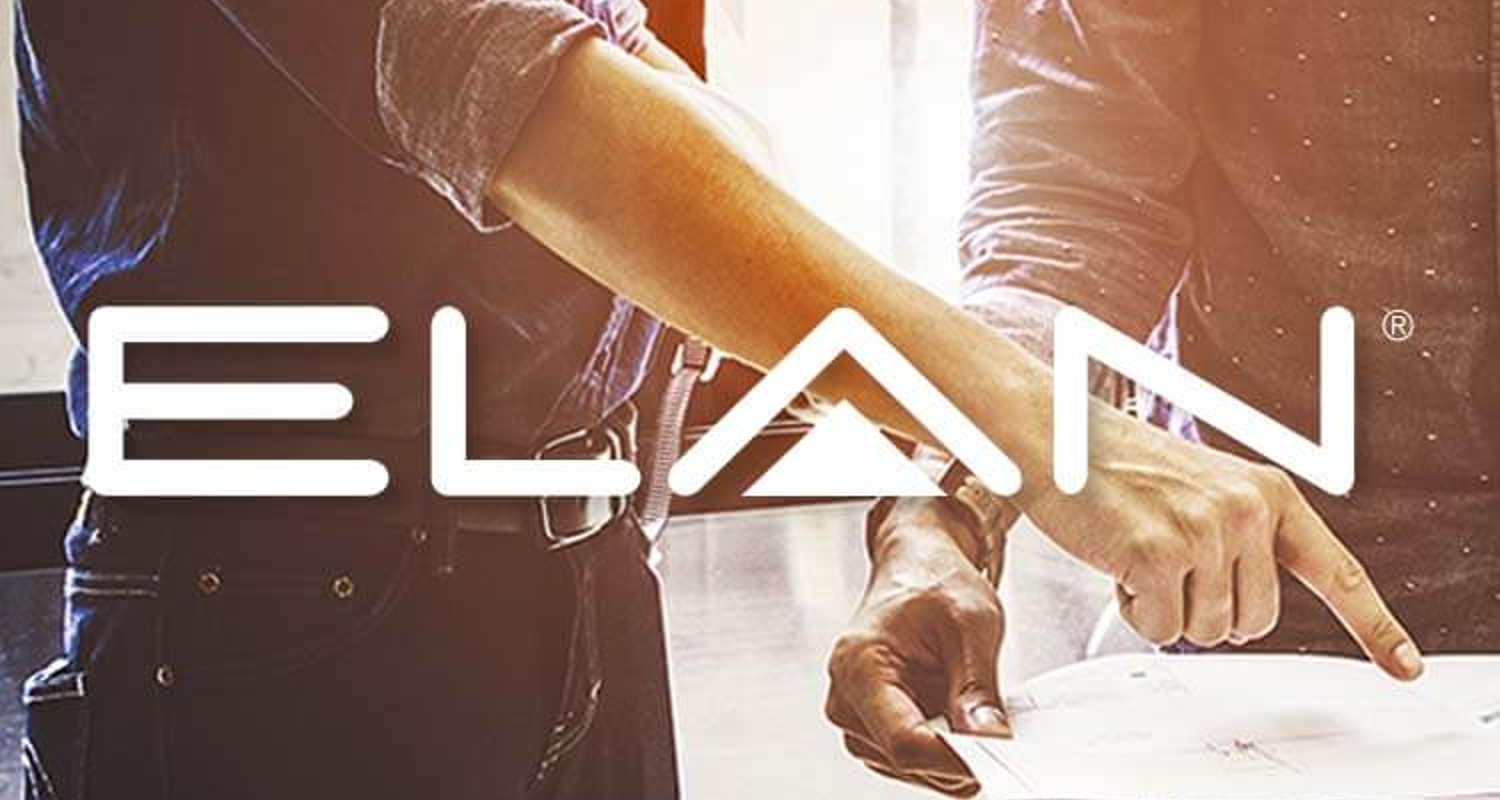 Product Announcements
September 7, 2022
Nice/Nortek Control Announces Next-Generation ELAN Audio and Video Distribution Solutions
Product announcement includes the ELAN Premium Matrix Series, HDBaseT Receiver/Extenders, and solutions designed to seamlessly enable installation-wide audio distribution
CARLSBAD, CA, September 7, 2022 – Nice/Nortek Control today announces the release of all-new ELAN® AV distribution solutions – the ELAN Premium Series Audio & Video Matrix Switches, HDBaseT Receiver/Transmitter solutions, the ELAN Network Audio Interface and 2-Channel Audio Amplifier – each meticulously designed to ensure seamless, installation-wide transmission of audio and video from dedicated sources within the environment to their desired location.
ELAN Premium Series Audio & Video Matrix Switches
The ELAN Premium HDMI Audio/Video Matrixes deliver the range of industry leading features required for today's installations. With video distribution of 4K HDCP 2.2 compliant video, bi-directional IR and PoC (Power over Cable) up to lengths of 100m over a single CAT cable, the ELAN Premium Series simplifies the distribution of audio and video content throughout the home.
Available in two configurations (4X4 and 8X8), the ELAN Premium Series matrixes feature independent audio routing, Audio Return Channel (ARC), audio embedding, and de-embedding to make projects simple and reliable. The 8X8 model features a built-in audio matrix switch with up to 26 audio inputs – this advanced feature helps take the guess work out of system design and enables a new realm of distribution possibilities. The extensive I/O and the flexibility to route signals from nearly any source to virtually any destination within an installation allows for almost limitless possibilities.
Leveraging a powerful ELAN System Controller, the Premium Series matrixes can be configured quickly and easily with the ELAN Configuration Software. In moments, the integrator can define audio channels, designate EDID presets, and insert audio delays on outputs to instantly correct any lip-sync issues within the system. A built-in web interface module makes it easy to setup and use these next generation AV distribution solutions in any installation, even those without an ELAN controller.
The ELAN Premium Series matrixes solutions take full advantage of all the benefits offered by HDBaseT technology. With HDBaseT on board to facilitate high-definition content distribution, the Premium Series AV matrixes are capable of feeding attached monitors 4K and 1080P images, in tandem with the industry's most popular high-definition audio formats. The next-gen ELAN matrixes enable multi-media experiences while simultaneously providing seamless control integration of devices deployed throughout the project.
ELAN HDBaseT Receiver/Transmitter Extender Solutions
ELAN HDBaseT receivers and transmitters send HDMI signals throughout the home, enabling homeowners to watch video in remotely located rooms within the house. Onboard HDBaseT technology enables extending high-definition content beyond the limits of standard HDMI cables, offering greater flexibility to keep entertainment rooms free from the clutter of electronic devices and minimize all video, audio, control (2-way IR and Serial), and power transmission down a single Category cable.
With 2-way IR and RS-232 pass-through, the ELAN HDBaseT series provide seamless control of remotely located monitors, streaming sources, and gaming devices. The ELAN HDBaseT receivers are available separately, allowing integrators to take full advantage of the built-in HDBaseT transmitters from the new ELAN Premium and Video Matrix Series products. Available as both a KIT, (1 x ELAN HDBaseT receiver and 1 x ELAN HDBaseT transmitter), and distinct configurations, the ELAN HDBaseT Receiver/Transmitter solutions easily extend video, audio, and control over a single CAT5/CAT6 cable, eliminating all guess work and added expense of multiple cables.
ELAN Network Audio Interface + 2-Channel Audio Amplifier
Two new ELAN solutions that round out the Dante® enabled line up, the Network Audio Interface and 2-Channel Amp enable decentralized installations, giving integrators the freedom to deploy sources and amplifiers throughout an installation where they make the most sense. Both solutions leverage Dante audio networking for distribution over long distances on the network to deliver high-quality audio with near zero latency.
The ELAN Network Audio Interface enables delivery of bidirectional audio over a standard local area network using Dante Audio Networking. Send audio from a single remote source to an ELAN Dante enabled amplifier or from an ELAN Dante enabled amplifier or preamplifier to a secondary non-networked amplifier.
The versatile ELAN 2-Channel Amplifier can be deployed in single chassis mode, or multi-chassis mode. Integrators can now add one amplified zone to an ELAN, Dante enabled Audio Matrix in Multi chassis mode or a single, independent, zone in single chassis mode. In either use, it will supply 80 watts per channel at 8 ohms and 100 watts per channel at 4 ohms and is bridgeable to deliver 200 watts. This solution enables system integrators to extend audio to a remote location or add audio to a room that did not have it before – all without the need to run cabling back to the main rack.
Featuring fast and simple installation using off-the-shelf IT networking equipment and cables, the ELAN Network Audio Interface and 2-Channel Audio Amplifier both leverage proven, reliable protocols and, reduce overall cost of ownership and drastically reduce cabling and labor costs.
All of the new ELAN Audio/Video Distribution solutions will be on display at CEDIA Expo 2022 in booth #21017.
For more information, please visit https://elancontrolsystems.com/
About ELAN
The award-winning ELAN® whole-house entertainment and control solutions, by Nice/Nortek Control, are distributed through a comprehensive channel of select dealers throughout the United States, Canada, and countries worldwide. Its software was honored with a "Human Interface Product of the Year" award and continues to expand its intuitive functionality and customization to deliver the most personalized, feature-rich control experience available. ELAN control systems set the benchmark for today's smart homes with a single app interface to security, climate, entertainment, surveillance and video distribution products and integrations. To learn more, visit www.elancontrolsystems.com.
About Nice/Nortek Control
Nice North America designs and manufactures smart home and building automation solutions. Innovating since 1962, the company offers pro-install and DIY smart solutions in perimeter access, gates, barriers, access control, home security and automation, single-app intelligent control, sunshade solutions, whole home entertainment and video distribution for residential, commercial, and industrial environments. Complementing its Nice branded solutions, its family of brands includes 2GIG, Abode, ELAN Control Systems, FIBARO, Furman, Gefen, HySecurity, IntelliVision, Linear, Mighty Mule, Numera, Panamax, Proficient Audio and SpeakerCraft. The regional division of Nice is headquartered in Carlsbad, CA with regional R&D, manufacturing centers in Kent, WA and Quebec, Canada; and distribution centers in Phoenix, AZ; Olive Branch, MI; Chicago, IL; and Atlanta, GA. Professional integrators, dealers and distribution partners grow their business with award-winning CEU training and education, technical and field support, and sales and marketing programs with customized brand assets. The company is a proud national sponsor of the Gary Sinise Foundation R.I.S.E. Program, supporting wounded veterans and their loved ones. For further information, visit www.niceforyou.com
©2022, Nortek Security & Control LLC. All rights reserved. 2GIG and ELAN are registered trademarks of Nortek Security & Control LLC. Other brand names and product names mentioned herein may be the trademarks, tradenames, service marks or registered trademarks of their respective owners.
Press Contact
Caster Communications
nice@castercomm.com
Corporate Contact
Richard Pugnier
Vice President of Marketing & Education, Nice/Nortek Control
760.517.1688
Richard.Pugnier@nortekcontrol.com
This post was first published on the ELAN Control Systems website.
Stay in the know!
Get the latest from Nice, including tips, new product information, and more.