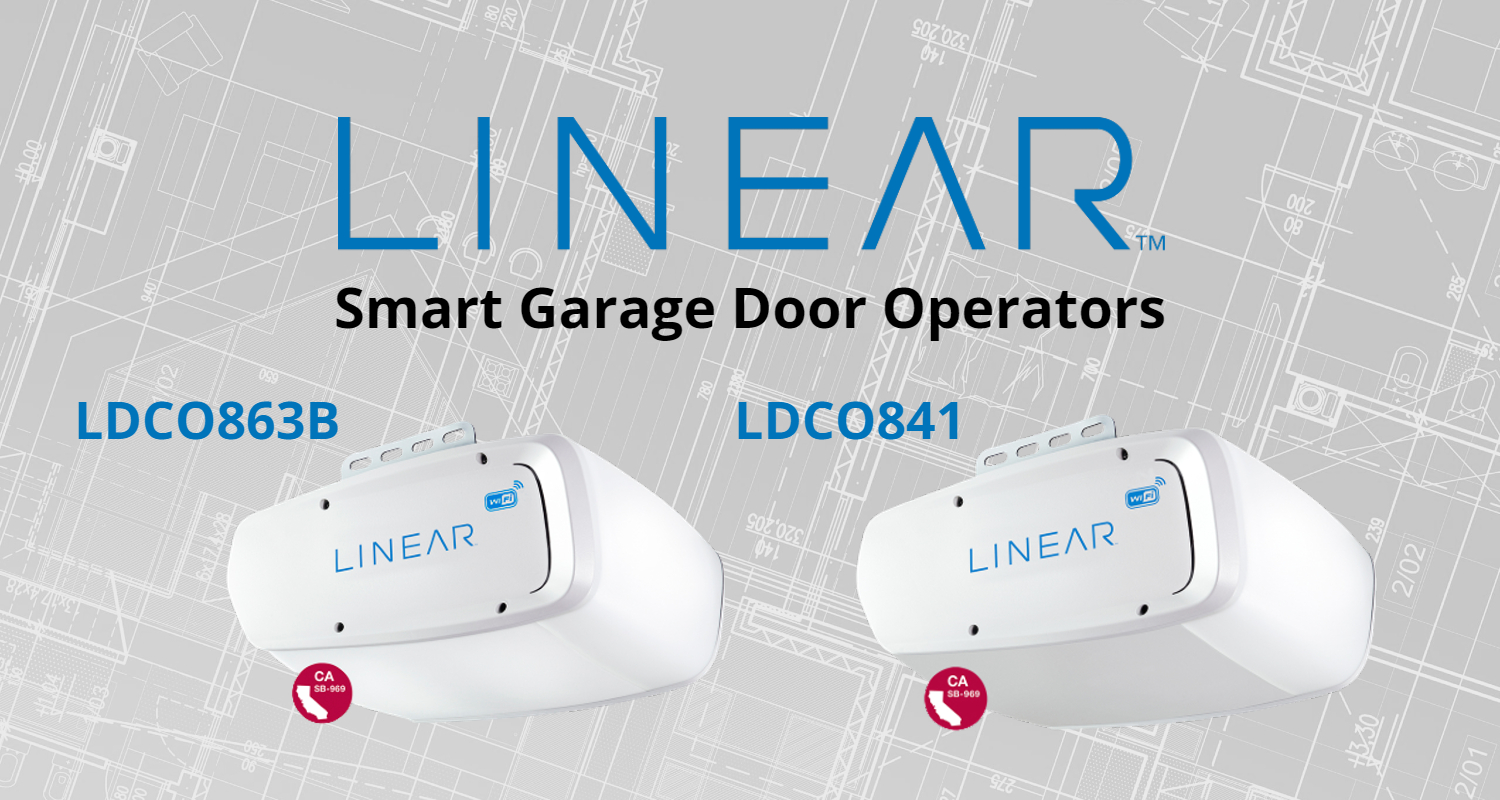 Product Announcements
November 10, 2020
New Linear® LDCO863B Smart Garage Door Operator Features the Industry's Brightest LED Lighting at 4100 Lumens
Introducing two advanced-technology Linear Smart Door Operators that deliver ultra-quiet operation, Wi-Fi connection and Smartphone control in a sleek, modern design
Carlsbad, Calif., November 10, 2020 — The new Linear LDCO863B and Linear LDCO841 Smart Garage Door Operators debuted today from Nortek Control feature advanced GDO technologies. Giving dealers a distinct competitive edge is the Linear LDCO863B that sets the standard for the industry's brightest garage door operator lighting. Offering wall-to-wall illumination, it uses three LED panels for a total of 4,100 lumens – the highest lumens of any residential opener. Energy efficient and dimmable, the included LED panels offer long life and dependability. The Linear LDCO863B also features integrated battery backup compliant with California state regulations. Battery backup is an option with the Linear LDCO841.
Safety and security have never been more important for homeowners today. The exceptional brightness offered with the Linear LDCO863B delivers that extra sense of well-being and comfort consumers want while also providing the reliability that Linear products are known for.
"Not only do our new GDOs feature a contemporary, low-profile design, but provide additional safety, convenience and security with the industry's brightest LED lighting," said Richard Pugnier, Vice President of Marketing at Nortek Control. "Based on the most advanced lighting technologies on the market, homeowners will never have to change a bulb again and won't be left in the dark."
These smart integrated technologies deliver the functionality homeowners request most often such as smartphone app-based status, notifications and control. Both new operators offer ultra-smooth and quiet performance with variable speed and soft start/stop operation and employ an exceptionally quiet motor.
In addition, dealers can offer customers state-of-the-art, real-time garage door monitoring and control from any mobile device with the Linear smart app. Accessed simply with a Wi-Fi or internet connection, the Smart App allows users to assign custom access and permissions for up to 10 authorized users, and schedule door and light operation. And, the Linear Smart App is compatible with ELAN® home controls, Amazon Alexa™, Google Assistant™, HomeLink™ and IFTTT™.
"Leveraging the brain power of our advanced smart GDO technology to make life easier for homeowners, these are the smartest Linear garage door operators yet," said Mark Mattson, Product Manager for Nortek Control's Linear brand. "For example, the technological advancements we've designed into this latest series are compatible with and easily integrated with other smart home systems such as to Alexa, Google as well as many ELAN smart home automation systems giving homeowners another level of convenience and security."
With the many options available, a single Linear garage door operator can satisfy many customer applications. This allows dealers to keep less inventory while giving them the ability to offer the right configuration for a homeowner's needs. Choices include a belt or chain drive and between a seven, eight or 10-foot T-rail or carriage house I-rail. Additional options consist of everything from miniature key ring transmitters and multi-button visor transmitters to wireless keypads.
For more information please see:
About Linear
Linear Garage Door Operators, Gate Operators, Access Controls and Radio Controls are backed by 60 years of pioneering experience in wireless technology, access control systems and high-quality operator, control and system manufacturing. Dealers have come to rely on the full breadth of the Linear brand as a leading source for the garage door, gate, and access solutions. For further information, visit www.Linearproaccess.com.
About Nortek Control
Nortek Security & Control LLC is a global leader in smart connected devices and systems for residential and commercial customers, serving the security, access, AI, health & wellness, control, and power/AV markets. Nortek Control and its partners have deployed more than 5 million connected systems and over 25 million security and home control sensors and peripherals. Through its family of brands, the company designs solutions for national telecoms, big-box retailers, OEM partners, service providers, dealers, technology integrators and consumers. Headquartered in Carlsbad, Calif., Nortek Control has over 50 years of innovation and is dedicated to addressing the lifestyle and business needs of millions of customers every day. For further information, visit www.nortekcontrol.com.
Agency Contact
Annette Keller
Keller Communication
(707) 947-7232
annettekeller@nortekcontrol.com
Stay in the know!
Get the latest from Nice, including tips, new product information, and more.