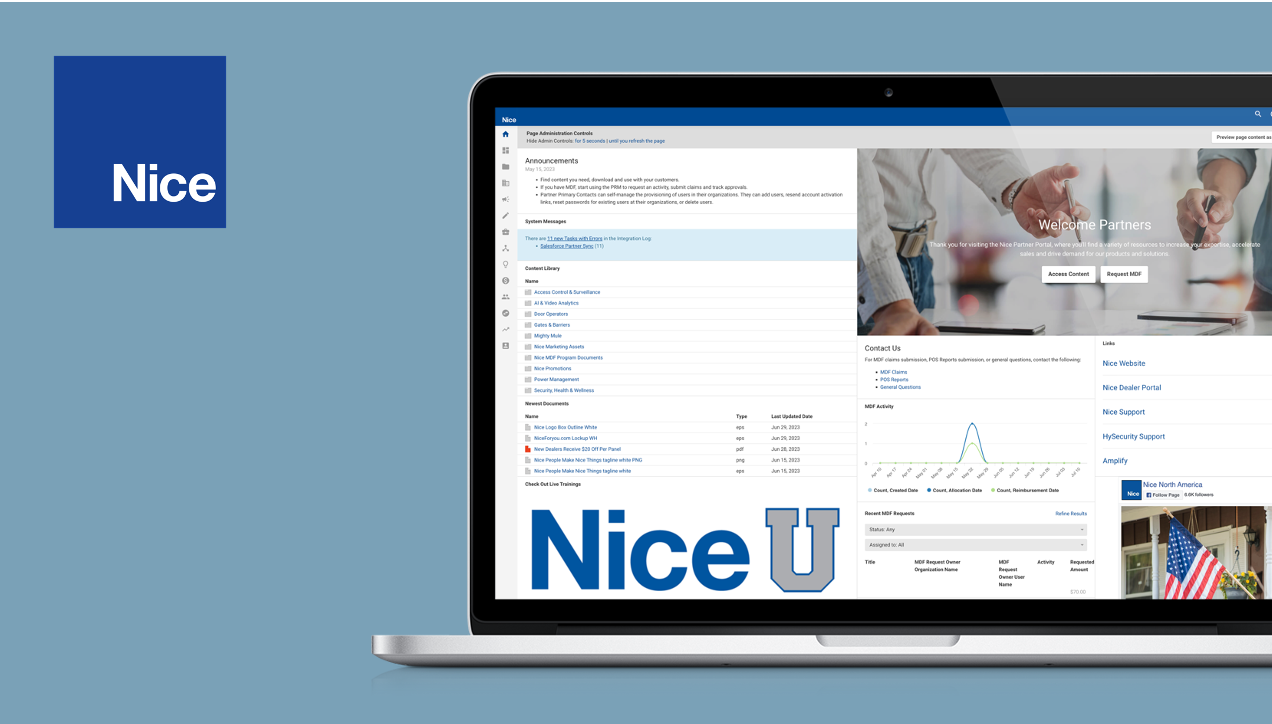 Press Releases
July 14, 2023
Nice Unveils Next-Generation Partner Resources with Innovative Partner Portal and Nice University Platforms
The launch of enhanced partner tools in North America is set to supercharge partner empowerment and education experiences.
CARLSBAD, Calif., July 14, 2023 – Nice, a global leader in Home and Building Management solutions, today announced the launch of two transformative resources for partners in North America: a revamped Partner Portal and Nice University, a comprehensive education and training platform. These dynamic tools are poised to boost partner performance and build partnerships that center around collaboration, empowerment, and shared success.
The Nice Partner Portal is an all-in-one, user-friendly, and secure resource, developed to foster better collaboration between Nice and its diverse partner groups. It will enhance the partner experience, accelerate sales across different business lines, products and solutions and streamline partners' interaction with Nice.
"Imagine a partnership experience that's not only efficient, but also engaging and empowering. That's the vision driving the new Nice Partner Portal," shares Analizza Lambino, Director of Channel & Partner Marketing at Nice North America. "This is a significant step towards nurturing stronger relationships with our partners, making their journey with us more rewarding and successful than ever before."
The Partner Portal's value-added benefits include:
Comprehensive access to marketing and sales collateral across the Nice portfolio
User management and Market Development Funds (MDF) requests and submissions
An open invitation for all partner groups to explore the world of Nice offerings
Exciting upcoming features, such as deal registration, lead distribution, and joint business planning
Access the Nice Partner Portal here: https://niceforyou.partners
In line with the vision of a world without barriers, the all-new Nice University removes obstacles to education by offering curated training opportunities that meet individuals' unique learning needs. The platform is built to be flexible and user-centric, providing a mobile-friendly and personalized learning experience that users can engage with at their own pace. Nice University also provides dealers and distributors the chance to co-own the learning process by monitoring their company's education progress.
Addressing the launch of Nice University, Ben Mahoney, Director of Education at Nice North America, commented, "At Nice, we understand the immense value of education. Nice University embodies our commitment to fostering an environment of continual learning and development for our employees and partners. It is designed to equip users with the knowledge and skills necessary to thrive in the ever-evolving landscape of Home and Building Management solutions."
Nice University features:
Easy-to-find training opportunities and resources
Education transcripts and certifications to enhance value for individuals and organizations
Learning from subject matter experts to deepen product understanding and earn CEU credits
Future enhancements, such as social learning opportunities; allowing users to share experiences and ideas with industry peers within the platform
Enroll in Nice University here: https://nice.university
These new resources underscore the unwavering commitment and investment Nice has made to enhance its partner ecosystem. By strengthening its platforms and offering new education programs, Nice aims to create a smoother, and more productive and enriching experience that can drive shared success.
Partners can look forward to regular enhancements to, as well as a continued evolution of, content and assets for both the Partner Portal and Nice University platforms. For inquiries, reach out to partners@niceforyou.com for the Partner Portal and training@niceforyou.com for Nice University.
About Nice North America 
Nice North America, a subsidiary of Nice, is one of the largest manufacturers of smart residential, commercial, and industrial solutions in the world, with seamless and easy-to-install technology for smart home control, security and automation, perimeter access, protection and control, sunshade solutions, power management, and whole home entertainment. The company is headquartered in Carlsbad, CA, with several R&D and manufacturing centers across the region. Professional integrators, dealers, and distribution partners grow their business with CEU training and education, technical and field support, and award-winning sales and marketing programs. The company is a proud national sponsor of the Gary Sinise Foundation R.I.S.E. program, supporting wounded veterans and their families with specially adapted smart homes. For further information, visit www.niceforyou.com.
Press Contacts: 
Agency Contact 
BCW
Brittany Gbur
brittany.gbur@bcw-global.com 
Corporate Contact 
Mark Burson
Chief Marketing Officer
Nice North America
m.burson@niceforyou.com 
Stay in the know!
Get the latest from Nice, including tips, new product information, and more.