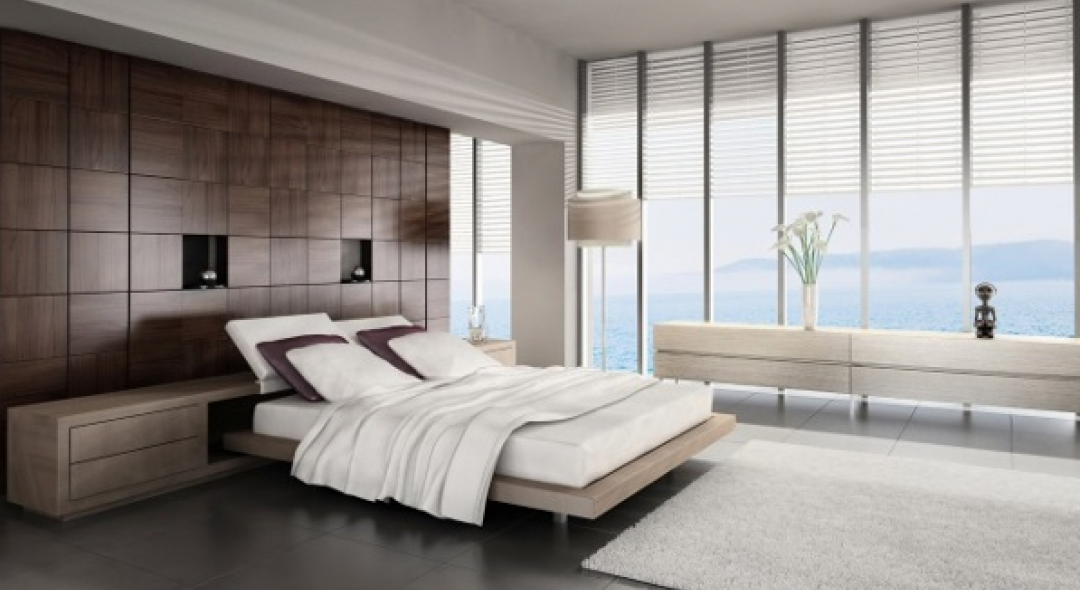 Often included in high-end interior home and office designs, automated window coverings like shades and blinds offer multiple benefits. Once installed, home and workplace automation features quickly become integrated into the user's experience and are easily taken for granted. Lest we forget the wonders of this modern marvel, let us outline some of the many ways they add value to our interiors.
Nobody enjoys waking up to the buzz of an alarm clock. What if you could be awakened gradually, by the morning sun streaming through your windows? Automated window coverings can transition from being closed at night to fully open at a designated time to do just that. They can also keep the room temperature at a comfortable level by letting in more sun when it's too cold and keeping the sun out when it gets too hot. When more light is needed for specific tasks, open the blinds with the push of a button. And if it's too bright in the room for gaming, movie viewing or working at the computer, adjust the light level with automated shades.
Harmful ultraviolet (UV) rays can travel through windows, causing irreparable damage even while we're indoors. Bright sunlight can fade upholstered furniture, carpeting and expensive artwork. More importantly, UV radiation can cause sunburn and some skin cancers. According to the Skin Cancer Foundation, UV damage is cumulative. Exposure to sun shining through window glass, even in the home or office, can lead to significant skin damage over time. Ordinary glass absorbs about 97% of UVB rays and only 37% of UVA rays. When shades can close automatically during peak daylight hours, both the furnishings and the occupants benefit from added protection.
Imagine being able to control every window in the room with the press of a single button, or windows that open and close automatically with the help of a light sensor. The convenience of smart window coverings that sense when they should open or close almost goes without saying. But consider the added benefit when they are added to high windows or skylights, where it is difficult, if not impossible, to install and operate conventional shades. It's easy to see how much value is instantly added when the occupant is suddenly able to access an otherwise unreachable spot, and can do so without even thinking about it. Who doesn't appreciate things being done without having to ask first?
In the winter, save on heating costs by strategically opening and closing blinds. This simple action, when it is performed automatically when the sun is in peak position, both allows solar heat to enter the building and reduces heat loss. During the hot summer months, blinds that close as the sun moves across the sky can control solar heat gain and decrease the need for air conditioning. While automated window coverings help building owners save on heating and cooling costs, they also provide balanced lighting. By taking advantage of natural sunlight, building owners will conserve the electricity needed to power artificial light.
Blinds that open and close on their own can give would-be intruders the illusion that someone is home. Whether leaving for the evening or an extended vacation, automated window coverings can offer added security. In addition, when window coverings can be set to close automatically at a designated time of day, or when a room is occupied, they can prevent others from peering inside the home or business. This offers privacy for building occupants wherever it is desired.
The movement of automated window coverings can be triggered by the time of day, by light sensors, or with a remote controller. The best motorized shades and blinds are intuitive and intelligent, yet simple to operate. High-end control options include touchless wall-mounted transmitters, remote controls with user-friendly graphic interface and wireless integration with third-party control systems.
When these advantages are compounded by the value that automated screens and shades add to any property, the benefits are clear. Delight your clients in ways they never dreamed were possible by making their home or office more beautiful, comfortable and efficient. Contact us to learn about the latest in window covering automation technology. 
Stay in the know!
Get the latest from Nice, including tips, new product information, and more.