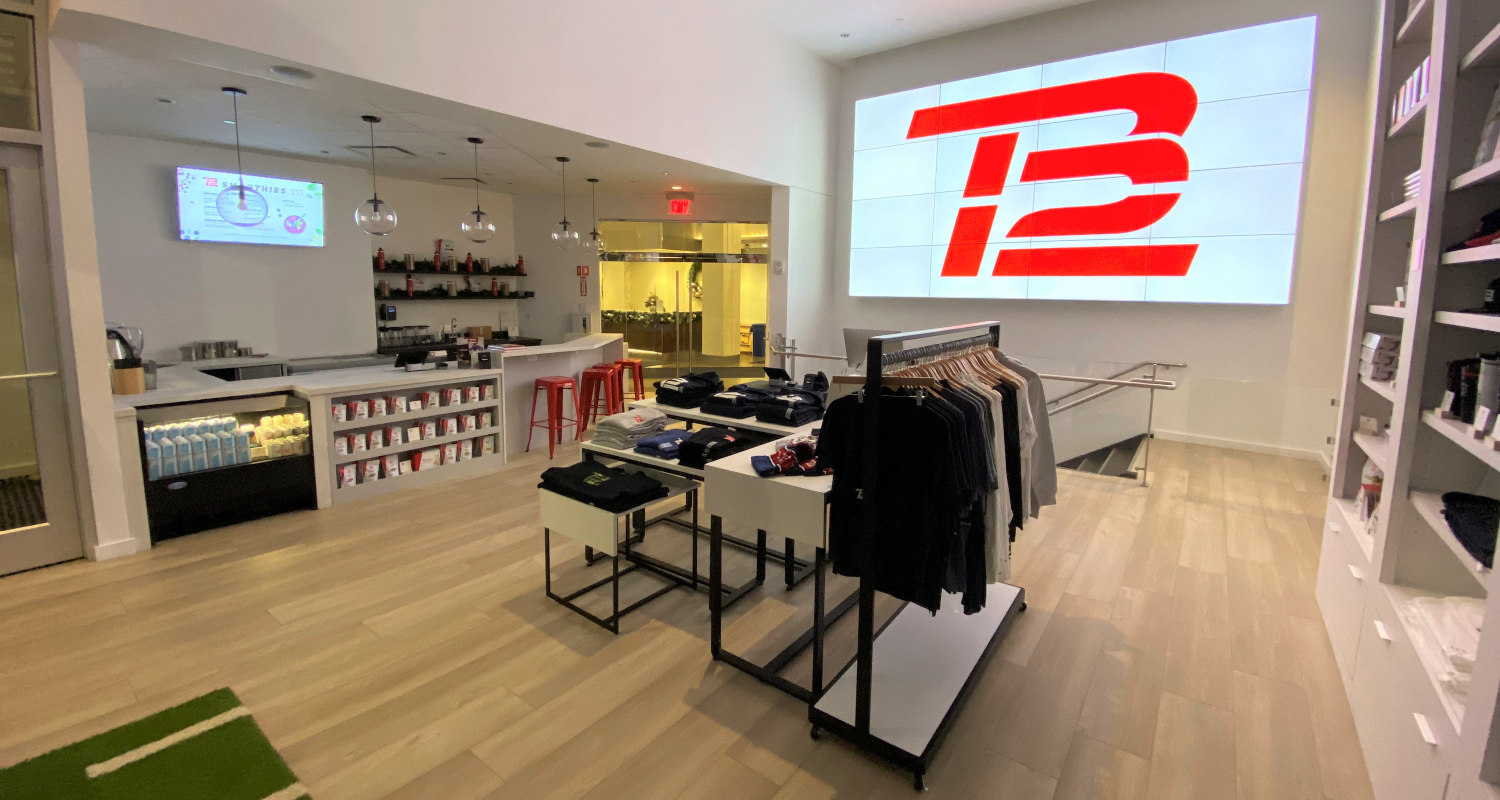 Case Studies
January 20, 2021
TB12 Drafts High Performance ELAN® and Xantech® Products for Innovative TB12 Performance & Recovery Center
New England showcase facility puts winning Nortek Control Brands in charge of its front line
CARLSBAD, Calif., January 20, 2021 — Nortek Control announced today that wellness-champion TB12 Performance & Recovery Center in New England's largest city tackled control and protection of audio, video and media distribution by deploying ELAN® and Xantech® products in their high-profile, multi-zone commercial environment. Included in the impressive showcase is a 16-foot-wide by 9-foot-high video wall that is active 24/7 and faces the Boston Marathon finish line in the center of Boston. The entire project was designed and installed by Boston-based KORE installation firm which is operated by KORE Founder Ronnie Zielinski.
The original plan for an A/V system and control via the ELAN control system escalated to a video wall with major impact when TB12 ownership learned how a large video wall could attract attention in their high-traffic location. Powered by the ELAN control system and Xantech's Video over IP solution, the nearly seamless 4x4 panel video wall covers the lobby's entire front-facing wall with 16 LG narrow-bezel 55" monitors. KORE programmed multiple options for the video wall, enabling its use as a single large display, a quad-screen formation or a center display with 12 surrounding displays.
"The ELAN control system was the ideal choice because the user interface is intuitive to use, simple to program and consistent across all controllers," said Ronnie Zielinski. "Plus, the products are backed by a team that delivers outstanding technical support and end-to-end connectivity that is so critical to these major projects. Because of this advantage, it is easy for TB12 staff to access various content sources for the video wall through the ELAN mobile app or a nearby ELAN in-wall touchscreen, providing instant access to promotional videos, marketing messages, cable TV and other content."
In addition to the AV equipment, KORE also installed a robust, enterprise-grade wireless network to ensure that every client, trainer and guest has a 100 percent reliable, fast connection for any online needs they may have while on site. The main components of the ELAN automation system are a powerful ELAN gSC10 System Controller and an ELAN S86A Integrated Multi-Room AV Controller. The video wall relies on 16 Xantech Video over IP receivers along with three accompanying transmitters.
TB12 is a comprehensive, customizable training method that maximizes the potential of athletes at any age and at any level. At TB12 Performance & Recovery Center, professional body coaches translate each client's complete biomechanics and unique goals into comprehensive, customized, sport-specific and position-specific programs that integrate revolutionary concepts in athletic preparation, recovery, nutrition and cognitive training.
"This project kicked off right with the powerful team of KORE, TB12, ELAN control products and Xantech Video solutions," said Richard Pugnier, Vice President of Marketing at Nortek Control. "It had to be intuitive for anyone at the facility to use, highly-reliable and offer the advanced technological performance that will propel the organization today and into tomorrow. TB12 is now well-positioned to add new tech in the future and continually excite store visitors and attract new customers."
"We had a major opportunity to maximize the impact of our storefront space both to draw people in and to serve our patrons," said Jeff Surette, Senior Vice President of TB12. "It had to be emblematic of the TB12 brand and simultaneously integrate a component that really popped. We wanted something as dynamic and eye-catching as possible – to tell the story of our brands for clients, customers and passersby," he continued.
"We were comfortable selecting KORE and Ronnie Zielinski because he understood exactly what we wanted to accomplish and knew the level of quality and attention to detail required. Ronnie was the logical choice since he was already familiar with people involved with TB12."
Thanks to KORE, the best front line in the business from Nortek Control and other leading custom integration products, TB12 definitely delivered the big win. Additional products in the project include: Sonos Connect, Access Networks Controllers, Sony XBR TVs, an LG Video Wall Monitor and many more.
Download high-resolution images here
About Nortek Control
Nortek Security & Control LLC is a global leader in smart connected devices and systems for residential and commercial customers, serving the security, access, AI, health & wellness, control and power/AV markets. Nortek Control and its partners have deployed more than 5 million connected systems and over 25 million security and home control sensors and peripherals. Through its family of brands, the company designs solutions for national telecoms, big-box retailers, OEM partners, service providers, dealers, technology integrators and consumers. Headquartered in Carlsbad, Calif., Nortek Control has over 50 years of innovation and is dedicated to addressing the lifestyle and business needs of millions of customers every day. For further information, visit www.nortekcontrol.com.
About KORE
Based in Massachusetts, KORE is an accomplished systems integration firm based on nearly 20 years of experience and specializing in the design, installation, and support of simple to use, high quality technology products. KORE works with architects, builders and interior designers on all sizes of residential and commercial projects for a broad client base throughout the U.S. For more information, visit www.korecontrol.com.
Copyright © 2021 Nortek Security & Control LLC. ELAN and Xantech are registered trademarks of Nortek Security & Control. All rights reserved. Other brand names and products names mentioned herein may be the trademarks, tradenames, services marks or registered trademarks of their respective owners.
Press Contacts

Cat Toomey
President and CEO
CATalyzing Communications
317.514.5546
Cat.toomey@nortekcontrol.com
Stay in the know!
Get the latest from Nice, including tips, new product information, and more.