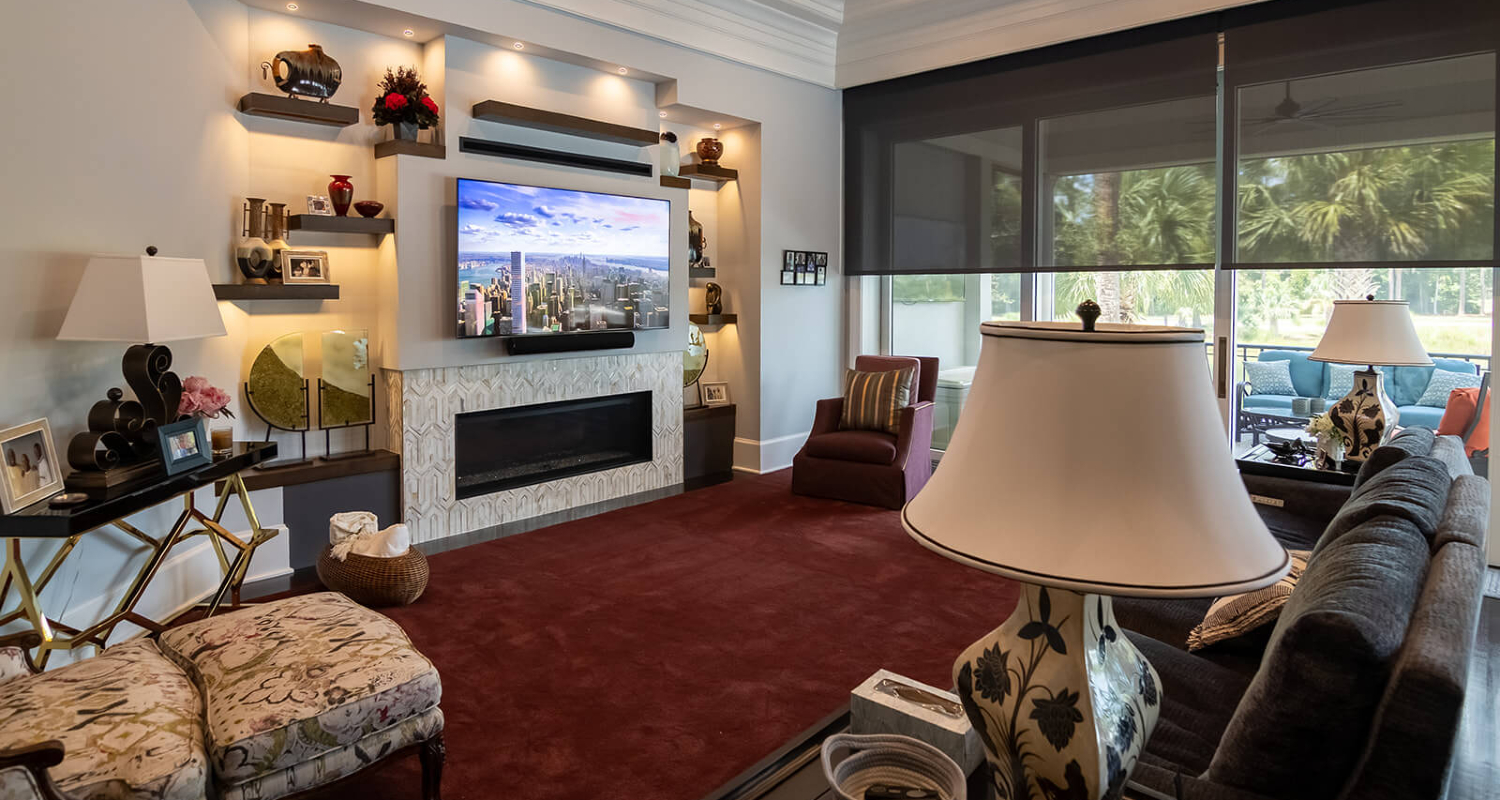 Case Studies
November 9, 2021
South Carolina Dealer of ELAN® Control Products Shines with Multiple CEDIA 'Home of the Year' Awards
For Curtis Hubner, owner of Advanced Integrated Controls, taking home five awards at CEDIA is a major accomplishment, especially when the competition is known to be stellar.
"It's really fulfilling to be in this industry," Hubner said. "You see other people's stuff and think, that's amazing. It's hard to believe that, sometimes, they look at your stuff the same way."
It was the first time AIC, a South Carolina business and installer of ELAN® control products, had entered CEDIA's 'Home of the Year' awards, but their entries didn't disappoint. The audio-video company won several awards for their project, 'Home on the Harbor'. Among them, they took home the gold for 'Best Before/After Retrofit Project' and 'Best Home Office/Gaming Space'. The project also won silver for 'Best Master Suite' and 'Best Whole House/Smart Home Project <$150k'. A separate project, centered on security, also won silver under the 'Best Integrated Security Project'. Both homes utilized ELAN control systems to create the ultimate smart-home experience.
By taking a closer look at 'Home on the Harbor', though, it's easy to see ways the beautiful house on the Hilton Head harbor blends the natural beauty of the Lowcountry with modern day home automation. The home used ELAN touchscreens, thermostats, doorbells and cameras – just to name a few.
But completing the project was no easy task. Hubner said prior to their work, the house was in rough shape, and the homeowner had some big asks for their large, three-story home. The project features more than a dozen televisions distributing 4K video in rooms on every floor, and twelve high-resolution audio zones. But, Hubner said, using ELAN control products made the tough project easier than expected.
"A lot of things went into turning this system that really didn't have the backbone we needed," Hubner said. "But we were able to turn an old house into a fully functional automation system with ELAN (control products)."
Fast forward to today, and the homeowners have an amazing and stunning smart-home. The master suite includes a large television that can be recessed and controlled using an ELAN touchscreen, so they don't miss the gorgeous views outside. The theater room provides an easy-to-use ELAN remote control and unlimited mobile devices to offer endless options for entertainment. Plus, ELAN cameras around the home enhance its safety, and the ELAN NVR makes footage easily accessible for instant playback.
The large job is still going strong.
More than a year has passed, and no service has been needed because Hubner said AIC and ELAN products always get the job done – and get it done right.
While Hubner and his team are incredibly proud of the several CEDIA awards, he said what made the project most special and worthwhile was that it was for a longtime friend. But AIC is always ready and excited for what projects ELAN control systems can assist with next, because the team always has big things in store.
Check out more of AIC's projects involving ELAN control products, or read our past blogs to find out how you can incorporate ELAN control systems into your next project.
This story first appeared on the ELAN Control Systems website.
Stay in the know!
Get the latest from Nice, including tips, new product information, and more.