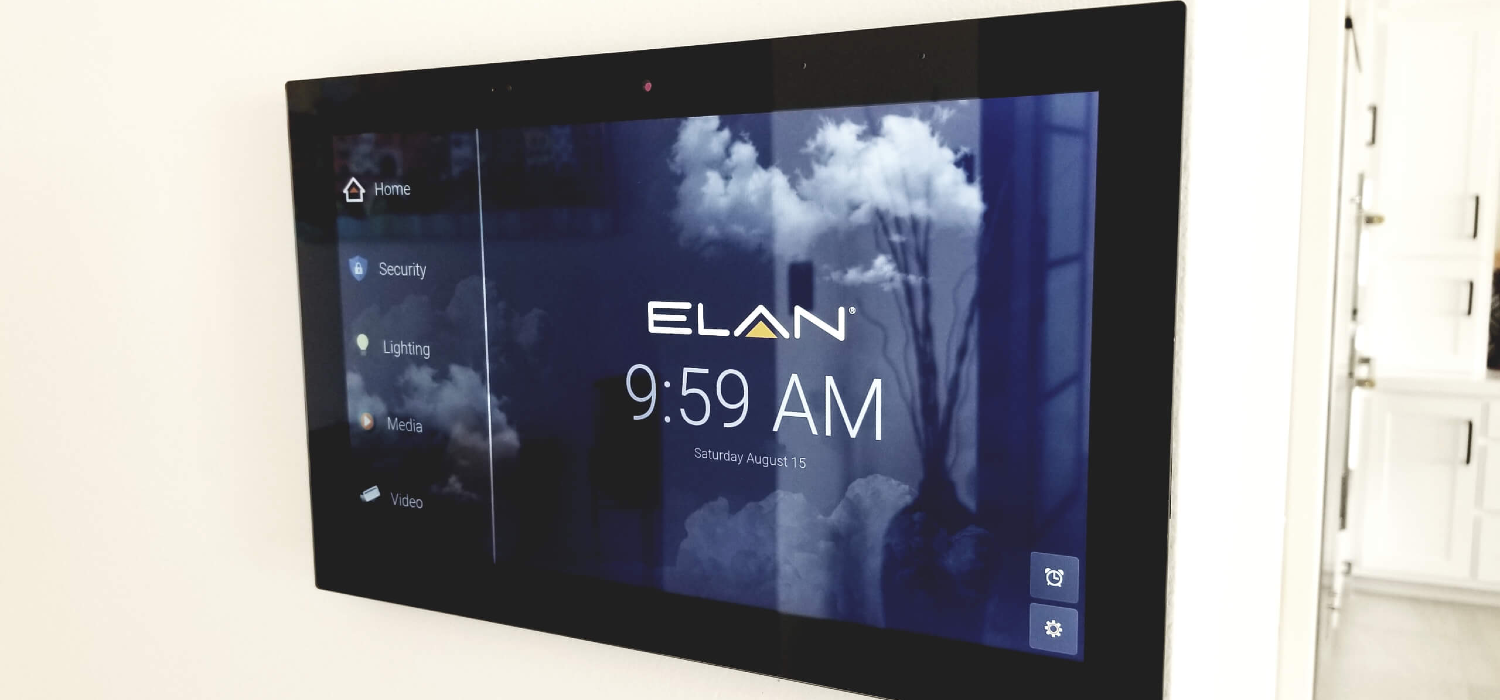 'Twas the season of Christmas and all through the house;
The tree lights twinkle, as you watch Elf with your spouse. 
Blankets and cocoa, heat cranked up to stay warm;
But an expensive power bill, shouldn't be the norm.
If your wish from Santa is to help both the environment and your wallet, ELAN® control systems can give that gift of savings every day. Using the features of your ELAN smart-home automation system can help you conserve this holiday season. It's easy-as-pie to improve the energy-efficiency in your home. 
With just a touch of a button, your ELAN app or touch panel can schedule lighting, climate changes and more. Here's how: 
Scheduling System Modes: Create different schedules for your smart home. When you're home, have the thermostat set to a warmer temperature with the lights set to a specific brightness. But when you step out to shop for your loved ones, create an "Away" mode using more conservative settings. You can also set the system to turn off the HVAC if a window is open in your home. Once that window closes, the schedule returns to normal.
Media Sources: No need to leave Home Alone on loop if Kevin McCallister isn't inside. Turn off the TV and all other media sources when you're out and about. A quick click of a button turns them off and instantly makes your house even more energy efficient.
View Climate History: The climate history function within the ELAN app or touch panel monitors usage and temperature settings over time. By checking your history, you can better understand when you're using the most energy and stop using high-energy appliances during peak hours.
It doesn't take much to get lost in the holiday hubbub each year, so let the ELAN control system work for you.
Here's how the platform can simplify (and bring joy) to your world.
Smart Home Climate Control: The ELAN system is designed to keep your home cozy and energy-smart, without a second thought. Its features know your temperature needs by anticipating and managing heating/cooling systems and shades. 
Outdoor Home Automation: If you're lucky enough to live in a spot it doesn't snow in the winter, you know it can be pool and spa season all year-round. Use the ELAN smart home automation system to schedule your spa to be ready when you are. The system effortlessly maintains pumps, lighting and even automated covers. 
Home Lighting Automation: Tired of turning your Christmas lights on and off every day? What about any of the lights inside your home? You don't have to remind yourself anymore. The ELAN system can turn on smart lighting to start the day when you wake up or return home at night. You won't have to worry about being left in the dark. 
If you're looking for more ways to stay on Mother Nature's 'nice list', view our how-to videos for more energy-saving ideas – including our climate scheduling walk-through!
This story first appeared on the ELAN Control Systems website.
Stay in the know!
Get the latest from Nice, including tips, new product information, and more.