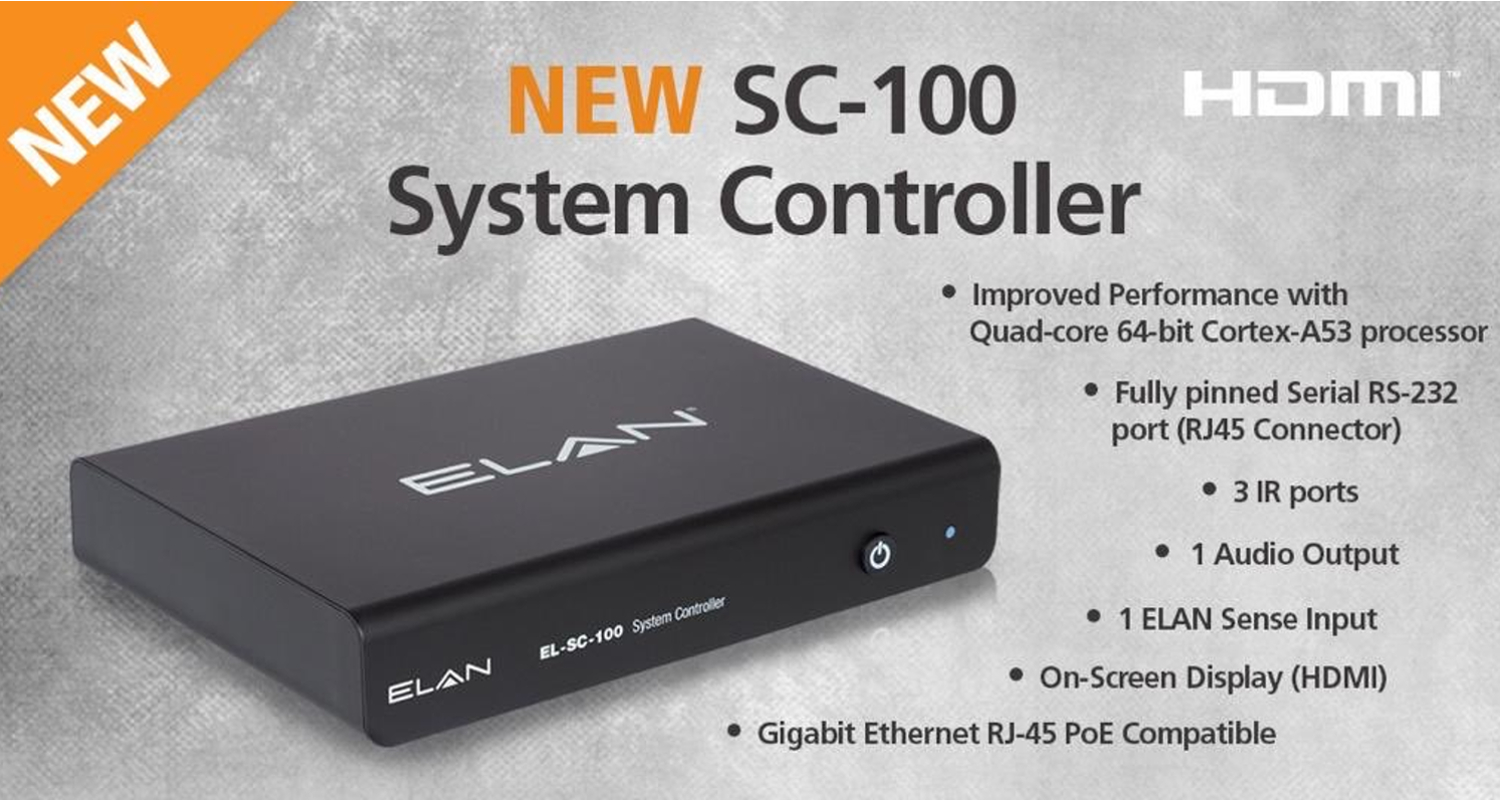 Nortek Security and Control's Builder Services Program offers a variety of solutions to home builders and MDU developers. One of the most popular, and affordable offerings, is the ELAN® SC-100 Controller. As part of many recent projects, the SC-100 enables dealers to provide the ultimate Connected Home Experience for homeowners interested in security, climate, lighting, entertainment and doorbell and video camera surveillance. The new controller is priced and designed to appeal to homebuilders and MDU developers, giving them a way to differentiate their homes and buildings with a single app solution for the most sought-after smart home elements.
Improving Your Control
The ELAN® SC-100 System Controller is ideal for single-room control and improving the media room control experience. The new system controller currently integrates with the Vera Edge Z-Wave hub to control lighting, door locks, thermostats, sensors, and more! This feature makes it a robust and scalable smart home control choice for home builders.
For the media room, the SC-100 features an on-screen display option that gives users the ability to control and manage their smart home right from their TV. Expanding the lineup of ELAN controllers, the SC-100 complements the suite of ELAN SC Series controller line, used in projects of all sizes and complexity.
Same Great Quality
This is not a dialed-down version of the ELAN controller experience, nor a compromise; this is a new category of home automation controller designed to meet the smart home demands of home builders, building developers, and their buyers. Homeowners as well as home builders and building developers are looking for more than just a collection of independent smart devices. The award-winning ELAN Control Platform and the new SC-100 delivers that needed capability and customer experience – orchestrating all of the smart devices in a home.
Tailored specifically for Connected Home projects that desire security, climate, lighting, entertainment and surveillance, the SC-100 System Controller includes Ethernet, Wi-Fi, Z-Wave and Serial communication, leveraging the vast database of thousands of third-party devices compatible with ELAN controllers to ensure easy integration and interoperability. The SC-100 is extremely flexible from an installation standpoint. Featuring Power-Over-Ethernet (PoE) and Wi-Fi connections so it can be installed virtually anywhere with a single network cable, the SC-100 is flexible and can easily be installed in cabinets, structured wiring enclosures, or behind a TV display.
Stay in the know!
Get the latest from Nice, including tips, new product information, and more.