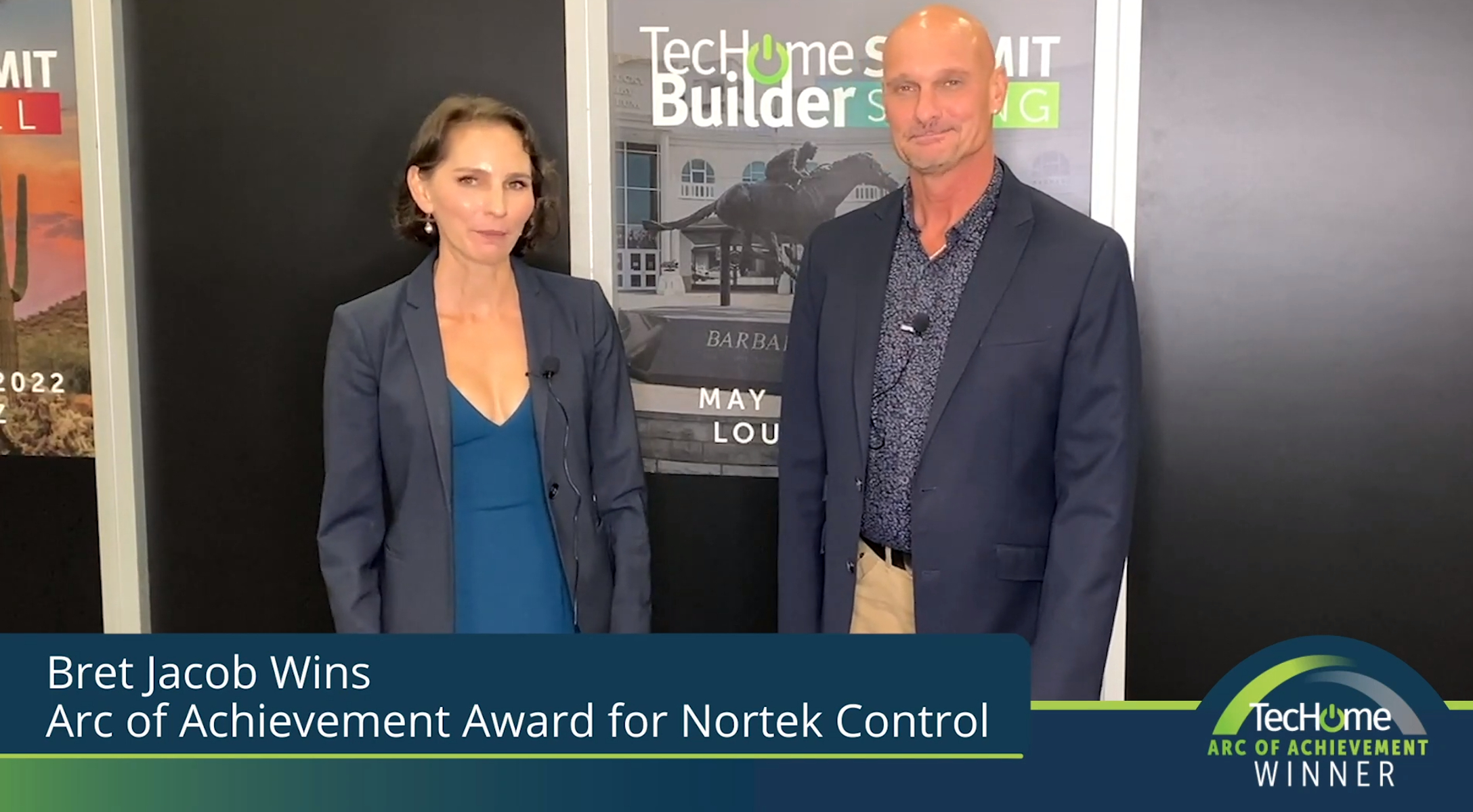 Nortek Control Director of Builder Services, Bret Jacob, Receives Prestigious 2021 TecHome Builder Arc of Achievement Award
Jacob recognized for his contribution in making a positive difference in the adoption of technology in new homes and expanding the application of tech to homebuilder businesses
Carlsbad, Calif., September 2, 2021 — Honored for providing exceptional and knowledgeable homebuilder technology support, Nortek Control Director of Builder Services, Bret Jacob, has received the coveted TecHome Builder Arc of Achievement Award. These awards were created to recognize individuals and companies that have helped to drive extraordinary technology application progress in new homes and with homebuilder businesses. For his outstanding efforts and positive impact on the industry, Jacob was one of this year's award winners announced during the TecHome Builders Summit in Louisville on August 17, 2021.
Jacob is responsible for advancing multiple turnkey technology programs that have helped builders significantly expand the smart home experience for new home buyers during his tenure at Nortek Control. Through his knowledge and leadership, he has built programs that give homebuilders cost-effective and proven smart home technologies that help them sell more homes faster.  Jacob is also instrumental in ensuring builder success by supplying them with sales and staff training and merchandising kits as well as design center displays and extensive marketing program support.
"Working closely with builders and with an exceptional knowledge of the evolution home technology, Bret brings a comprehensive understanding of what it takes to make smart home technology flexible and future-proof for today's new home buyers," said Bruce Mungiguerra, Senior Vice President of Global Sales and Marketing at Nortek Control.  "His passion in helping to expand technology within the building industry and as an inspiration to the builder services team is unparalleled as evidenced by how his leadership has propelled the Nortek Control Builder Services Program into one of the industry's most respected and acknowledged through several awards."
A prime example of the programs Jacob has initiated is with the recently announced 2GIG New Home Program™ powered by Alarm.com.  Jacob helped design this program to give builders the premier support they need to deploy the latest smart home technology infrastructure into their new communities. This comprehensive future-ready solution for production and custom homebuilders ensures proven technology compatibility that combines industry-leading 2GIG® security and home automation products with the premier smart home platform from Alarm.com.
For more information on the Nortek Control Builder Services Program and the 2GIG New Home Program powered by Alarm.com, please see: www.2GIG.com/builder/.
About Nortek Control
Nortek Security & Control LLC is a global leader in smart connected devices and systems for residential and commercial customers, serving the security, access, AI, health & wellness, control, and power/AV markets. Nortek Control and its partners have deployed more than 5 million connected systems and over 25 million security and home control sensors and peripherals. Through its family of brands, the company designs solutions for national telecoms, big-box retailers, OEM partners, service providers, dealers, technology integrators and consumers. Headquartered in Carlsbad, Calif., Nortek Control has over 50 years of innovation and is dedicated to addressing the lifestyle and business needs of millions of customers every day. For further information, visit www.nortekcontrol.com.
Nortek Control Press Contact
Annette Keller
Keller Communication
(949) 836-1074
Annette.Keller@nortekcontrol.com
Stay in the know!
Get the latest from Nice, including tips, new product information, and more.