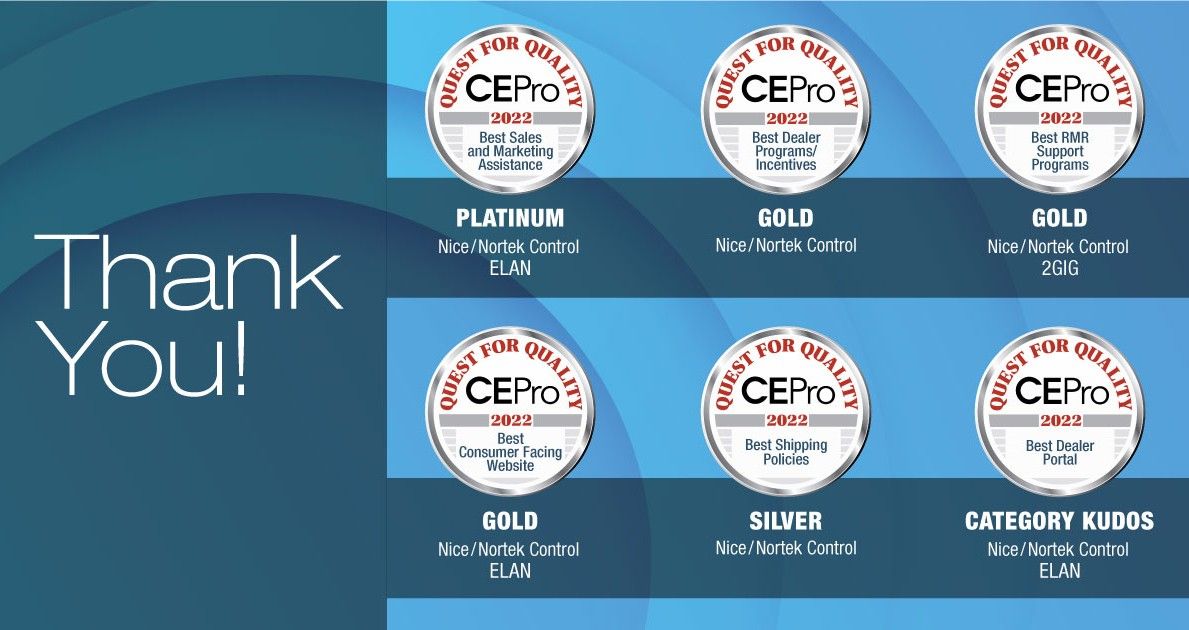 Nice/Nortek Control Brands Recognized in This Year's CE Pro Quest for Quality Awards
We announce with tremendous pride and joy the news that Nice/Nortek Control has won a number of awards in the recently concluded CE Pro Quest for Quality Awards 2022!
During the voting period from Jan. 27 to Feb. 19, 2022, wherein 16,848 readers of CE Pro Magazine submitted write-in votes, Nice/Nortek Control, its smart home automation brand ELAN® Control Systems and its smart home security brand 2GIG® were selected for the following awards.
Nice/Nortek Control
• Best Dealer Programs/Incentives — Gold Award
• Best Shipping Policies — Silver Award
ELAN® Control Systems
• Best Sales/Marketing Assistance — Platinum Award
• Best Consumer-Facing Website — Gold Award
• Best Dealer Portal — Category Kudos
2GIG®
• Best RMR Support Programs — Gold Award
Last year, ELAN® and 2GIG® also made a huge haul in the awards, with ELAN® Control Systems taking home two Platinum, two Gold, and one Silver awards, while 2GIG® took home five Platinum, two Gold, and one Silver awards.
Now on its 12th year, the CE Pro Quest for Quality Awards is truly remarkable as it recognizes the people and services behind the technologies and products in the custom electronics industry. The award is considered prestigious for professionals and companies — small or large — in the industry and is awaited annually since it was first given in 2010. It covers a total of 15 categories for manufacturers and nine categories for distributors and recognizes three winners in each category: Platinum, Gold, and Silver.
We at Nice/Nortek Control are thrilled and inspired by these accolades from CE Pro Magazine readers, as it reflects the hard work and dedication of our men and women across all our brands to provide our customers with outstanding service and industry-leading programs that they have trusted and relied upon for years. This recognition compels us to keep on charging forward as the industry leader in smart home automation, smart home security, and access control. Thank you to our partners for voting!
Stay in the know!
Get the latest from Nice, including tips, new product information, and more.