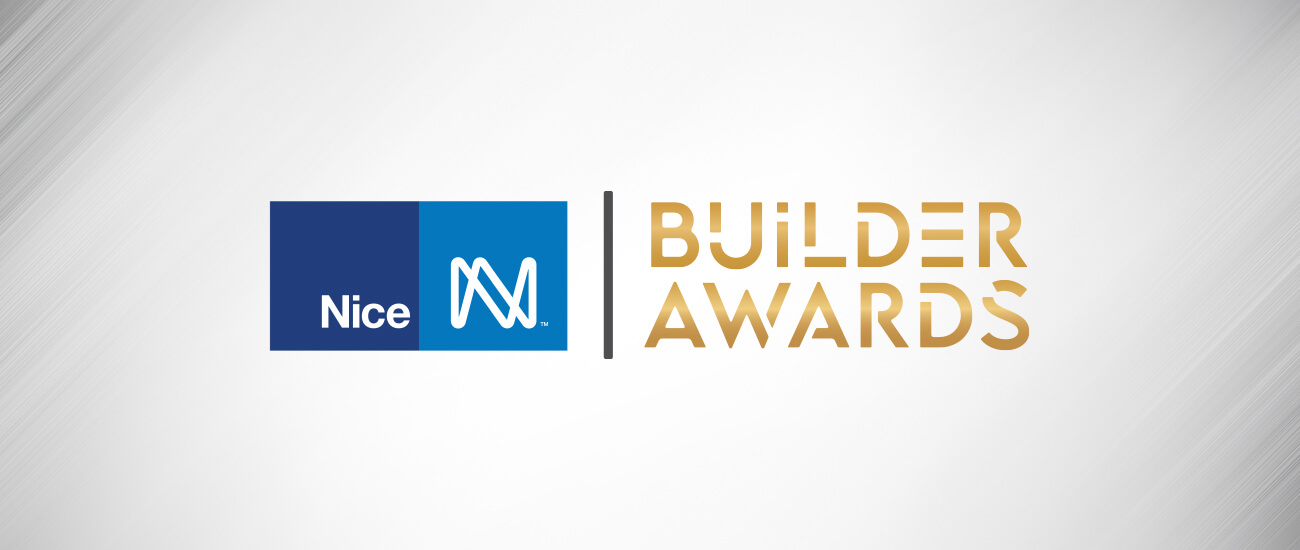 Nice/Nortek Control Announce Winners of Inaugural Builder Awards at NAHB's IBS 2022
New Builder Awards highlight 'All In' commitment to technology and Builder community, honoring excellence in home building and design
ORLANDO, Fla., February 10, 2022 — Nice/Nortek Control today announced the winners of their inaugural Builder Awards, acknowledging 23 builders and integrators for outstanding achievement. The Nice/Nortek Control Builder Services program offers an end-to-end, comprehensive set of resources including world-class collateral, advanced builder programs with unmatched support and enablement from a dedicated Builder Services Team that is available to all members of the Builder community. The Nice/Nortek Control Builder Awards recognize excellence across the country in home building, design centers and connected home technology integration.
"Selecting the winners of our inaugural Builder Awards was extremely difficult because so many accomplished and creative Builders utilized our products, programs and services to produce amazing, seamlessly integrated projects," said Bret Jacob, Director of Builder Services at Nice/Nortek Control. "We congratulate the 2021 winners for demonstrating their true innovation and greatness in this category by delivering the best smart homes to their customers. We look forward to recognizing many more Builders and Integrators in the future."
"The ongoing support we receive from Nice/Nortek Control's Builder Services Team has contributed to our continued growth and success in significant ways," shared Todd Polifka, award recipient and President of Custom One Homes in Minnesota. "From world-class collateral customized with our logo and information, to major initiatives like design center support, the Nice/Nortek Control Builder Program has been vital in delivering the new smart home technologies our customers seek. Being able to fully showcase the capabilities that Nice/Nortek Control offers makes it simple for homebuyers to select the smart home technologies they desire. Plus, dealing with one dedicated, expert company instead of dozens of vendors saves us immeasurable time. That's why we're 'All In' with Nice/Nortek Control."
All winners are highlighted here. Congratulations to all of the 2021 winners!
About Nortek Control
Nortek Security & Control LLC, acquired by Nice S.p.A. in October 2021, is a global leader in smart connected devices and systems for residential and commercial customers, serving the security, access, AI, health & wellness, control and power/AV markets. Nortek Control and its partners have deployed more than 5 million connected systems and over 25 million security and home control sensors and peripherals. Through its family of brands, the company designs solutions for national telecoms, big-box retailers, OEM partners, service providers, dealers, technology integrators and consumers. Headquartered in Carlsbad, Calif., Nortek Control has over 50 years of innovation and is dedicated to addressing the lifestyle and business needs of millions of customers every day. For further information, visit www.nortekcontrol.com.
About Nice
Established in the early 1990s, Nice is a global leading company in the Smart Home, Security, and Home & Building Automation markets with a comprehensive offering of integrated solutions for gates, garage doors, sun shading, parking systems, wireless alarm systems and home security, for residential, commercial, and industrial buildings. Nice has launched a strategic plan for expansion and the extension of its product portfolio and connected platforms. Nice remains dedicated to offering a wide range of customizable, user-friendly options for the end user and seeks to strengthen and expand in markets with high growth potential, enhancing and renewing its branding to compete on new market segments. Nice exports its products, which combine technological innovation and design, to over 100 countries. For further information, visit www.niceforyou.com.
©2022, Nortek Security & Control LLC. All rights reserved. ELAN, Linear and 2GIG are registered trademarks of Nortek Security & Control, LLC. Other brand names and product names mentioned herein may be the trademarks, tradenames, service marks or registered trademarks of their respective owners.
Press Contact
Cat Toomey
CEO, CATalyzing Communications
317.514.5546
Cat.toomey@nortekcontrol.com
Stay in the know!
Get the latest from Nice, including tips, new product information, and more.