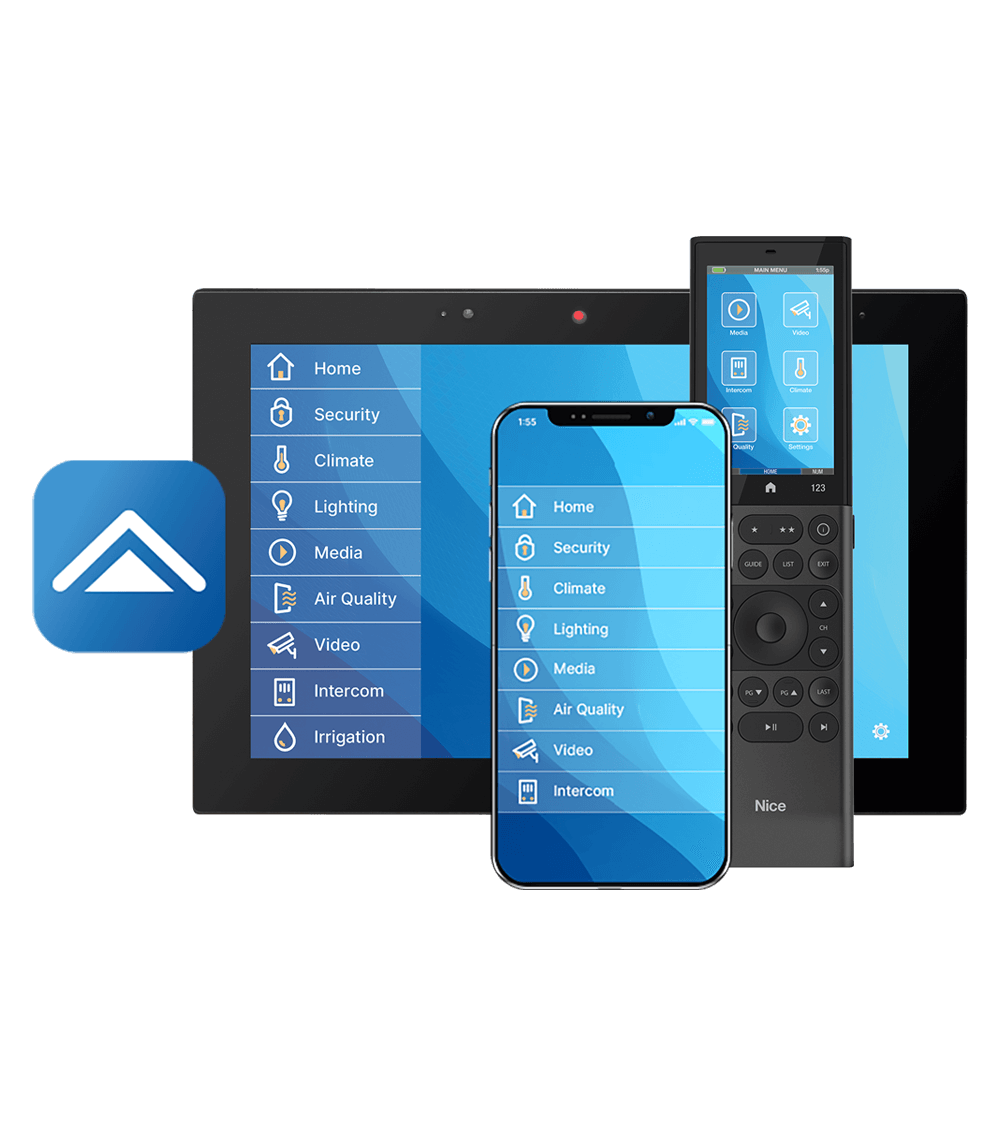 Nice for you.
Nice for your home.
Smart home control at the touch of a button. Seamlessly control your smart home system from any device with the same easy-to-use platform.
Control, your way.
Nice is a global leader in smart home automation, now combining award-winning control products from ELAN to bring entertainment, audio, power, security, shades and more into a single app solution for you and your home. We designed our platform to be consistent across every interface - so you can choose which control option is best for you.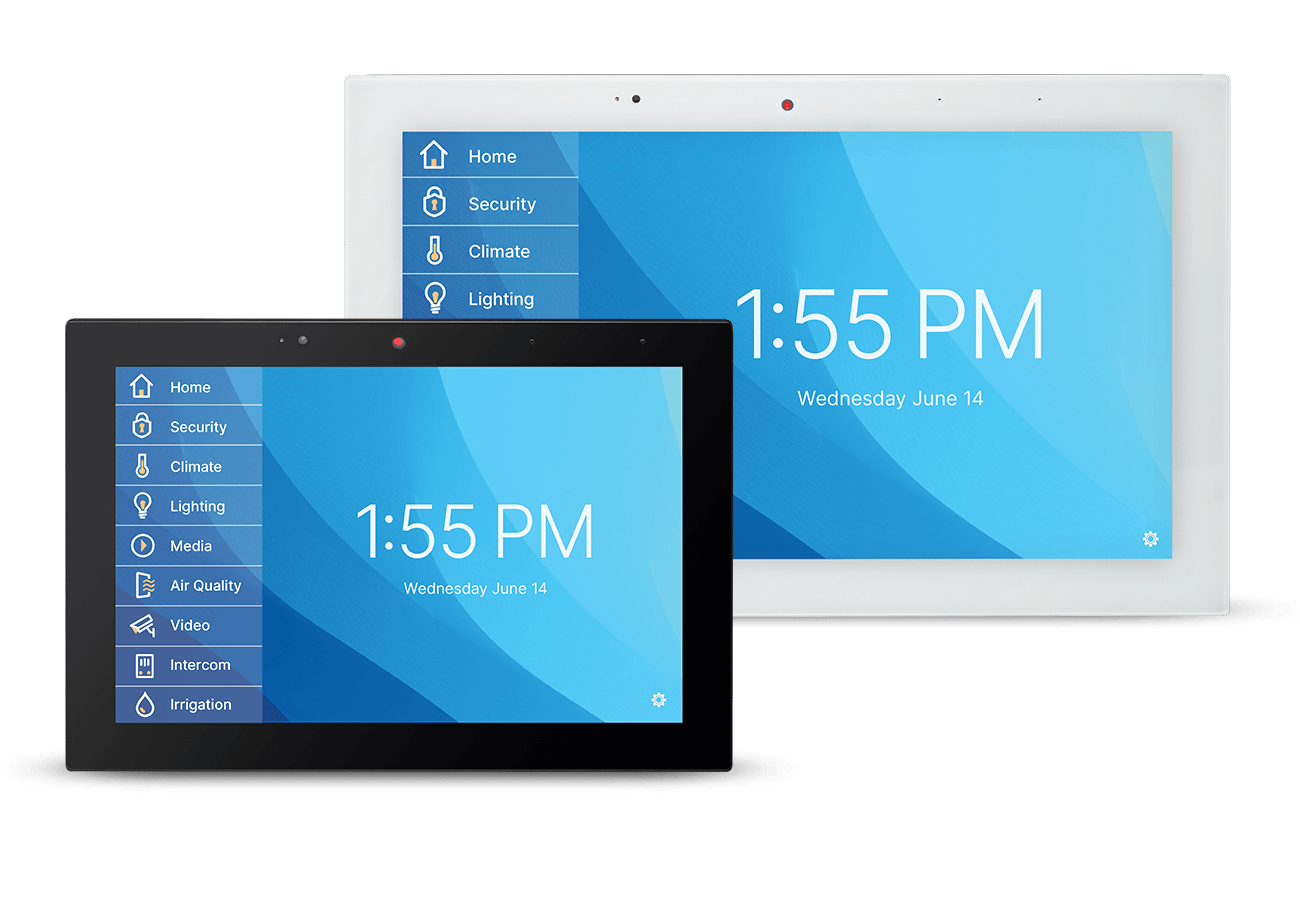 Touch panels.
For control within the home. Integrate intelligent touch panels throughout your home for convenient access to adjust lights, climates, shades, turn on music, see and talk to guests at the front door, view live or recorded surveillance footage, monitor indoor air quality, power, water and so much more.
Your system comes ready with a library of themes to choose from, but the possibilities don't end there! You can import photos/backgrounds to fully customize your system to your liking.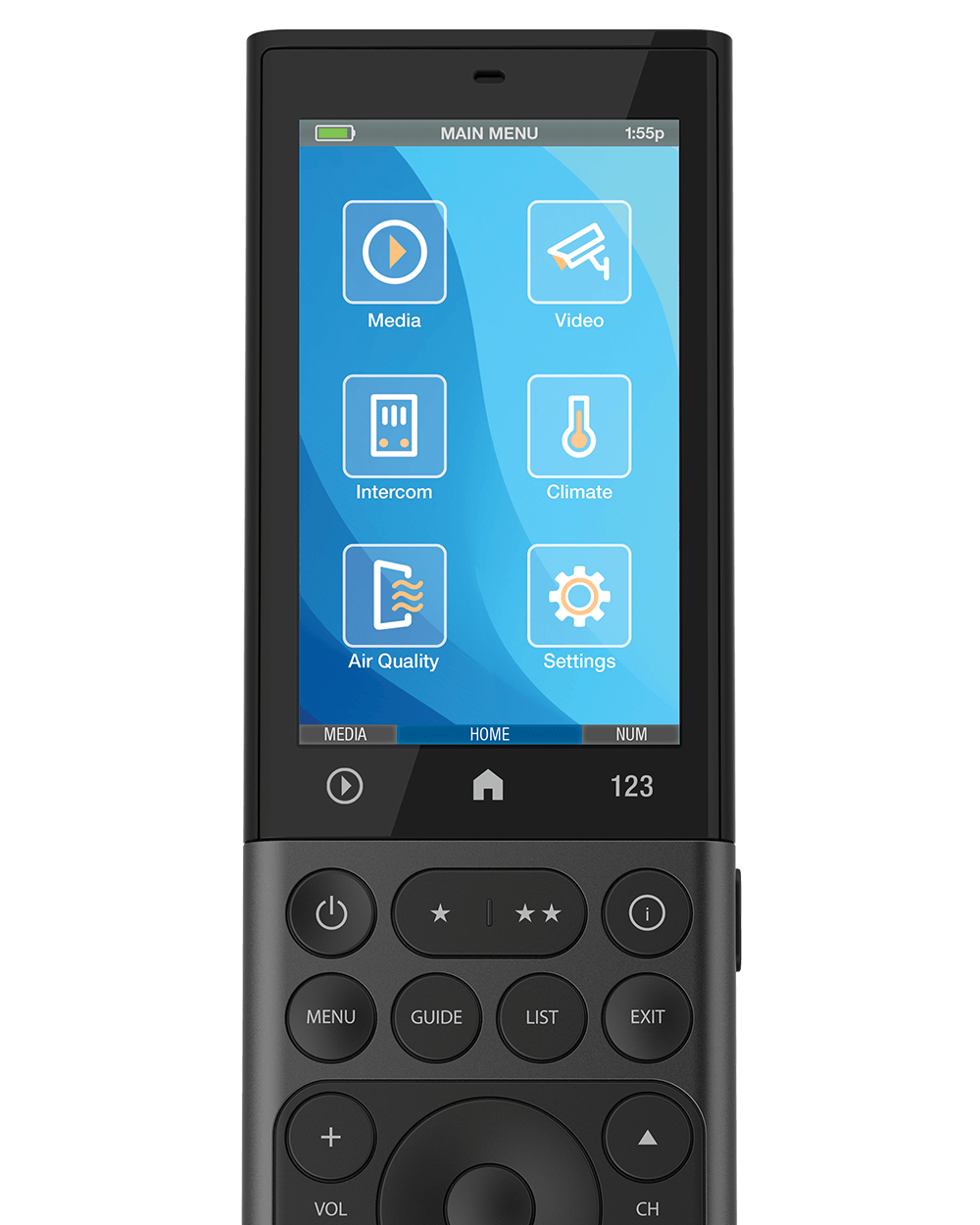 Remote.
Control More.
Meet the Nice HR40.
Enjoy more. Know more. Relax more. Illuminate more.


Simply Connect.
Nice provides integrated solutions for entertainment, high-performance audio, advanced power management, and more. Ask your integrator about connecting these elements to your smart home system.
Entertainment

MEDIA ROOM + HOME THEATER

Hearing is believing. Add high-performance speakers and amplification for a true home entertainment experience.

Home Audio

MULTI-ROOM SOLUTIONS

For music wherever you want it - indoors or out. Build a home audio system one space at a time and control it all from your smart phone.

Power Management

PROTECTION + BACKUP

You're only as good as your backup. Protect valuable electronics and extend the life of your smart home system with advanced power solutions.
Frequently Asked Questions
Nice is a global manufacturer of smart home and building automation, security, and perimeter access solutions. Founded in Italy in 1993, Nice offers a wide range of integrated and connected solutions for residential, commercial, and industrial applications. Nice focuses on developing high-quality technology solutions that blend design, innovation, and connectivity with ease of use to simplify everyday movements.

Learn more at: niceforyou.com

In October of 2021, Nice acquired the ELAN, SpeakerCraft and Panamax brands, and is redefining the smart home experience by converging these products into a single, more powerful solution designed to enhance the lives of customers worldwide. We're committed to providing you high-quality smart home solutions, and exciting changes are coming! A single solution from Nice will bring you a more integrated experience with greater convenience, performance, and control. You can expect a fresh, modern look and experience to reflect our commitment to innovation and, most importantly, to you.

Your system's functionality will remain the same, but Nice is bringing your system a new look and added features in the near future. Here's what to expect:

App: Name will change from ELAN --> Nice/ELAN with an updated icon color,
User Interfaces (touch panels, mobile app, etc.): The logos will change from ELAN --> Nice and have new styles and backgrounds available for you,
All additional updates will be optional and available upon request to your Dealer.

App: Name and icon change - Summer 2023 and again in Winter 2023 (removing ELAN)
User Interfaces: Logo change – Winter 2023

Functionality won't change automatically, but it can – ask your Dealer about the newest system update available with expanded features and benefits. The new update enables:

Updates to lighting, surveillance, and indoor air quality,
New personalization options,
Integrated control of smart appliances,
Compatibility with new HR40 remote,
Simplified music streaming.

Contact your Dealer to learn more and request the update!

If you already have the ELAN app, the name and icon will update to Nice/ELAN automatically if you have chosen that setting or you will need to request an update from the app store. If you don't have the ELAN app you can download it for free from the apple or android stores.

ELAN's legacy and award-winning technology will be combining with leading solutions from Nice, Panamax, and SpeakerCraft to create a complete smart home solution. Consolidating control, audio, and power products into a single solution enables greater innovation and enhancements to your system to create the ultimate smart home experience from Nice.

The ELAN website will be consolidated under Nice at niceforyou.com in September 2023.
Stay in the know!
Get the latest from Nice, including tips, new product information, and more.